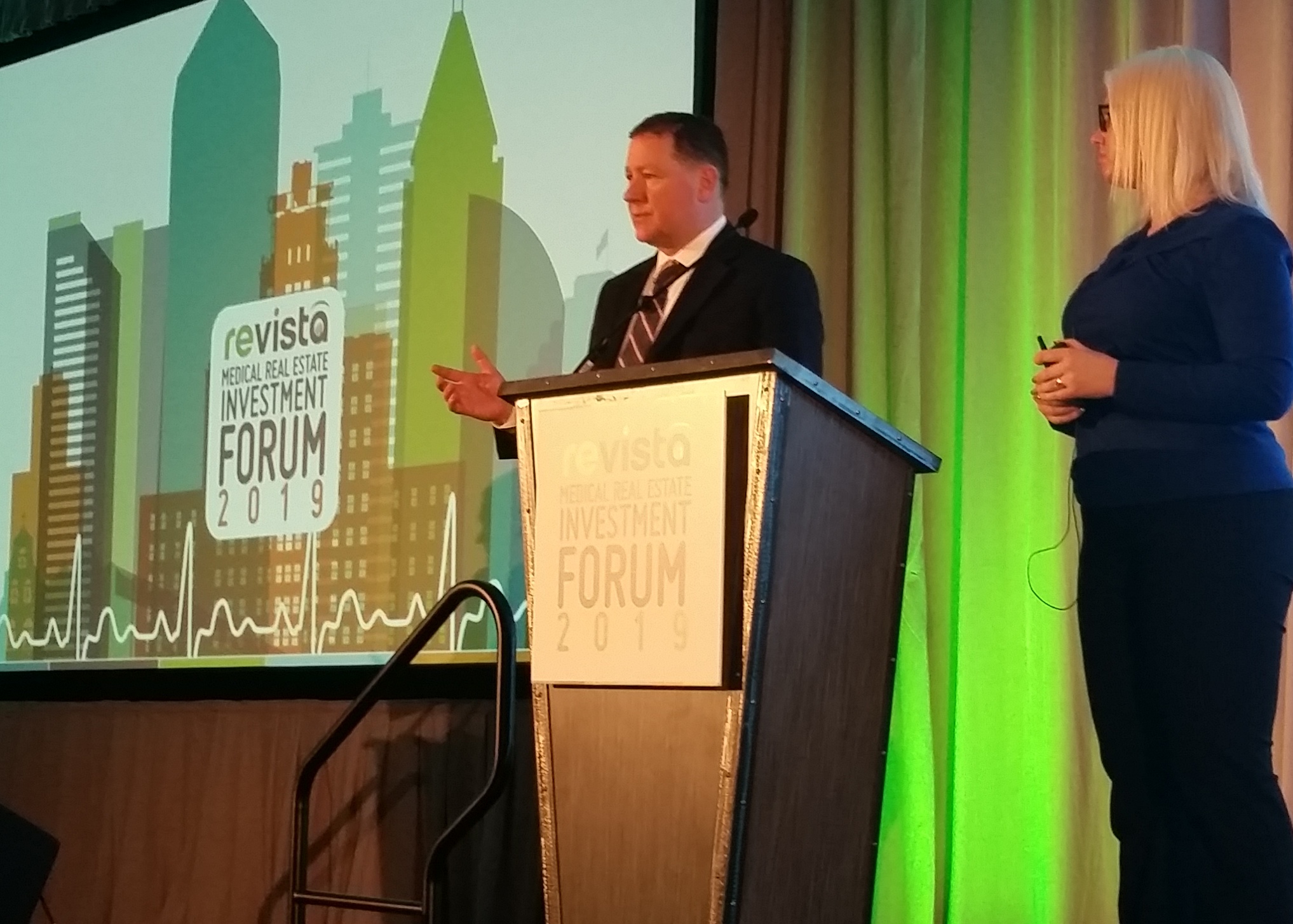 Revista's annual conference continues to impress with content, networking opportunities and venue. This year's conference was held at the InterContinental Hotel in beautiful San Diego, California. I'm based in Irvine, so it was a quick trip for me, and our CEO, John Pollock, joined me from our headquarters in Northern California. John and I were able to leave with some great new information regarding the national healthcare market. In this post, we'll share some key takeaways from the conference.
Opening Session
In the opening session, Mike Hargrave and Hilda Martin presented a great macro view of the national healthcare market that, as always, was rooted in data and facts. Some notable data included the following:
MOB occupancy rates have dipped slightly since 2017, but are still at very healthy levels, in fact, the 10-year average occupancy nationally has trended between 90 – 93%.
With the dip in occupancy, NOI growth slowed to 2.4%, down from a high of 3% set in 2017.
National transaction volume between 2014 – 2018 has ranged from $8.9 billion, to a high of $15.8 billion in 2017, and 2018 is on track to be at about $11.2 billion. This volume has nearly doubled from the historical volume of $5 billion.
Nationally, cap rates are going up slightly; but, according to Revista, that has been driven by non-core buildings pulling up the average. Cap rates for Class A core assets in gateway markets are not moving.
In 2018 hospital real estate transaction volume went down significantly from 2016/17
Under development nationally at the end of 2018 were 874 properties worth $70 billion
What to expect in 2019-

$28 billion of hospital completions; replacement hospitals (including new hospital in SF), expansions and 25 new micro hospitals.
MOB completions are holding steady with prior years
On-Campus vs. Off-Campus
We found the data regarding on-campus vs. off-campus space especially interesting. 2019 is going to be a big year for new hospital completions. California is the #1 state for new hospital construction and Riverside is among the top 10 cities in the country for new hospital development (1.5 million SF and 7 projects are currently under construction).
That being said, MOB construction is increasingly going off-campus. 70% of new construction in 2019 is off-campus. This is due to the lack of developable land near hospitals and the health system's desire to get more of a presence out in the community. One interesting statistic is that the cap rate spread has increased between off-campus and on-campus MOB's. On campus cap rates have remained mostly flat while off-campus cap rates have increased.
It was particularly exciting to hear Revista present the top 10 metros for rent growth as Meridian's markets had three of the top 10: #5, Seattle at 2.8%, #6, San Francisco at 2.7%, and #9, San Jose at 2.6%.
The conference left us eager to watch how the next few years unfold. If you're interested in attending Revista's conference next year, visit their website at https://revistamed.com/events.
Author: R.J. Sommerdyke and John Pollock