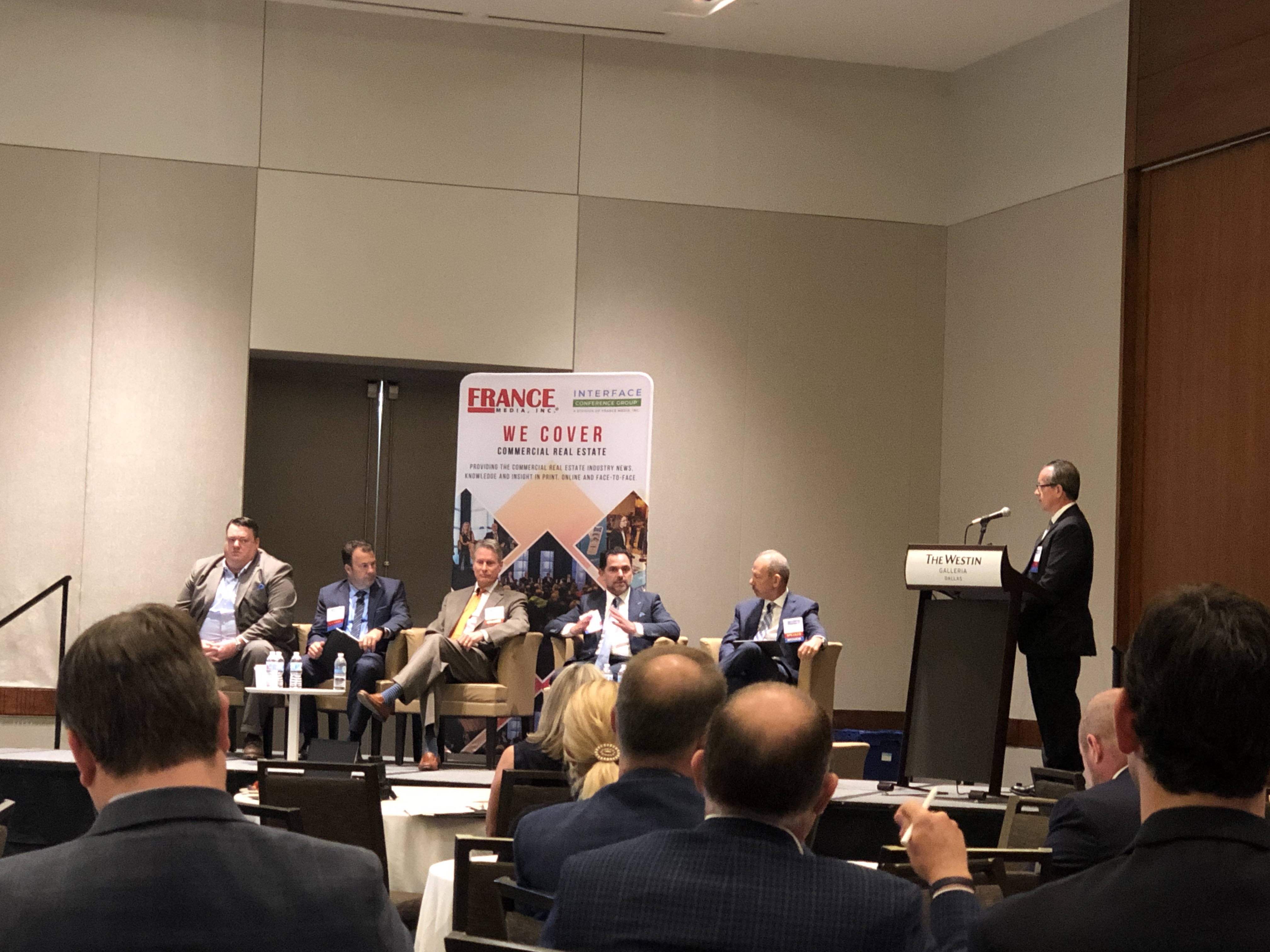 The InterFace Healthcare Real Estate one-day conference, hosted by InterFace Conference Group, is a national informational and networking event for everyone involved in healthcare and medical office real estate. This year's conference was held at the Westin Galleria in Dallas, TX and focused on investment, development, financing and the ongoing changes in healthcare that we must adapt to every day. Meridian's John Pollock was a speaker on one of the panels, and Meridian's Mike Conn and Rich Couturier attended the conference as well. In this post, we'll share some of their key takeaways from the conference.
Healthcare Reform
Some members of the panel said that they don't think that we will see a single-payer system, but that healthcare will be front and center no matter which party wins the White House. It seems that the general consensus is that Medicare for all would result in the closings of secondary and tertiary hospitals, but it's all still speculation at this point. While we agree that we won't end up with a single payor system or Medicare for all, we as developers need to think differently. We cannot afford to spend 18% of the GDP on healthcare. Most other industrialized nations spend around 8% of their GDP on healthcare and have better than or equal outcomes. Something must change in the delivery of care here in the United States. As developers, if we don't start bringing creative solutions to the table, we are going the way of the dinosaurs. The opportunity lays in flexibility. At Meridian we see a tremendous opportunity in what we call adaptive re-use: taking an existing building that wasn't originally intended to be medical and converting it, or, changing the zoning of a parcel(s) to allow for medical. The existing buildings offer a location that would not have otherwise been available in tight urban markets, allow speed to market, and can help transition an area by revitalizing buildings that have become unwanted or underutilized. Similarly, changing the zoning of a parcel(s) often allows Meridian to purchase parcel(s) that are underutilized and therefore more affordable.
Investment Market
Current economic outlook has strong fundamentals the next 12-18 months. There is plenty of equity flooding the sector, lots of liquidity in the market, and the feds just reduced interest rates. Many pension funds and institutional capital want to own healthcare as part of their portfolio. There is less total volume of MOB sales this year compared to previous years due to lack of large portfolio sales; however, many REITS and MOB owners are still on a buying spree and the year is not over.
Additionally, greater awareness and acceptance by investors of the durable income characteristics of medical office has driven substantial capital raise for this sector. In JLL's Mindy Berman's August Healthcare Capital Markets Perspective, she points out that there is up to $5 billion of buying power, reinforced by the need for late cycle defensive plays in a challenging return environment. Healthcare is part of the wave of rising capital in niche sectors, notably outraising traditional real estate classes by 4 to 1. An uncertain economic forecast combined with low interest rates makes medical office's higher and stable returns attractive to investors. Furthermore, supply of healthcare real estate is low. The sector is a fraction of the size of general office, the institutional investors and REITs are long-term owners, and the healthcare systems themselves own upwards of 70% of the real estate in this space. This limited supply coupled with the aforementioned capital poised to buy makes the space attractive.
Disruptors
The fact that retailers such as CVS and Walgreens are determined to expand their healthcare offerings is huge. They have well-located, massive real estate footprints (nearly 10,000 locations each) that make it easy to connect with patients/consumers. Coupled with the fact that so much of the drugstore traditional business is being gobbled up by online retailers, it makes sense to transition that space to something that is "high touch." Consumers/patients want the convenient locations, positive experience and providers/systems benefit from a lower cost of care and better patient/consumer satisfaction. As an industry, we must find solutions where providers can better manage population health outside of the high-acuity hospital setting – the fee for service economics doesn't work. CVS and Walgreens will undoubtedly give the Providers/Systems in their respective markets a run for their money. The major hurdle will be rent. Those prime locations where the drugstores sit come at a premium that healthcare needs to afford.
The convergence of life science/education and healthcare is being coined "meds and eds", meaning life science and medical teaching/education facilities may soon be fully integrated with healthcare as one market sector to investors which could be a slight disruptor as well.
Lastly, panelists also talked about physicians wanting timesharing. We've been talking to physicians and other providers about co-sharing concepts being applied to physician office buildings. There are lots of upsides to the individual physician to have the flexibility to practice out of multiple high demand locations and be more accessible to their patients. The concern is how we can get there as an investor/landlord on a lease structure. Perhaps something could be structured with an employed physician group to guarantee the lease, and then we can help them to structure some type of "We Work" co-sharing concept for their own employed physicians and selective independent physicians.
Once again, InterFace Conference Group put together an outstanding conference full of new information, intense discussion, and plenty of networking opportunities. Looking forward to seeing what the rest of 2019 has in store for our sector.
If you're interested in learning more about this conference, visit http://interfaceconferencegroup.com/.
Authors: John Pollock, Mike Conn, and Rich Couturier