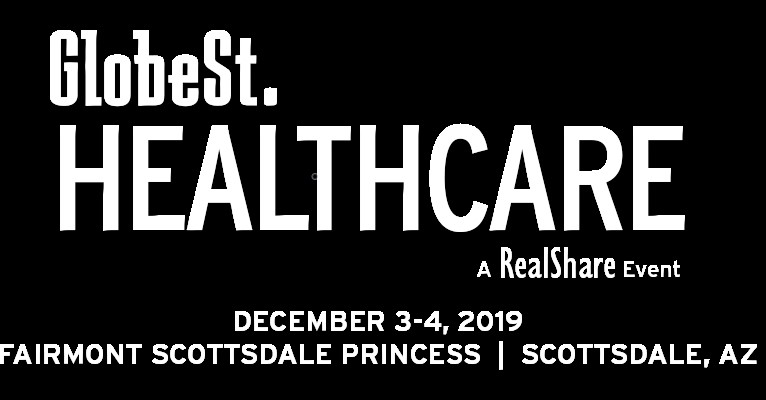 This year's GlobeSt. Healthcare conference was held at the Fairmont Scottsdale Princess hotel in stunning Scottsdale, AZ. The topic was "Navigating Change – Adapting for Success". Meridian Vice President, Real Estate Development, Sheila Schmidt, participated in one of the panels and Meridian's John Pollock, Mike Conn and R.J. Sommerdyke were in attendance as well. In this post we provide a few of their key takeaways from this year's conference.
Looking Ahead: Healthcare Forecast 2025
John Chang, Senior Vice President at Marcus & Millichap provided some compelling statistics regarding what's been happening in the healthcare sector and how that impacts its future. According to Chang, the sector is on track to spend nearly $4 trillion dollars by 2025 and will reach 19% of GDP (currently accounts for 18%). Our peers in Europe, Canada and Japan are spending on average 11% of their GDP on healthcare, underlying the dire need to drive cost out of the system. Cost is out-pacing inflation at a rate of 5% per year, while core inflation is ticking away at around 2%. These cost increases have been driven by the pervasive chronic conditions that plague much of the population – insurance, age, and more. Over the past 10 years the healthcare sector has added 10 million new jobs, more than any other sector.
Regarding healthcare sector fundamentals, it is all about demographics. According to Caroline Chido, Senior Vice President of Acquisition and Development at HTA, there are 10,000 people turning 65 years old every day. As the population ages the number of visits to healthcare providers increases. In fact, between the ages of 60 and 70 there is a 35% increase in the number of visits. This increased utilization, coupled with the number of folks turning 65 years old every day, will put a strain on the physical spaces where healthcare is delivered, and the workforce needed to deliver that care. Seniors are migrating south to markets such as Florida, Texas, Phoenix and Las Vegas.
Currently, there are approximately 1 billion healthcare visits per year and John Chang predicts that those numbers will increase by 10% over the next 5 years. This increase in visits will drive down vacancy. Rent growth has been modest at about 2%, which is consistent with the broader office market rent growth over the same period.
The question of the hour is – can the industry keep up with demand?
As mentioned earlier, the sector has added 10 million jobs, averages 2% job growth over the long term, and job growth has been solid even through economic downturns. Unemployment within the sector is just 2.1%, which is below the national average unemployment level. Unfortunately, there is a scarcity of people to fill the open positions which will affect future growth. A lot has been written about the physician shortage and the good news is that there has been a 20% uptick in the enrollment in medical school; however, nearly 30% of physicians are nearing retirement.
Notable Deals & Investment Strategies for 2020 and Beyond
According to the panelists Jason Signor, CEO & Partner at Caddis, Darryl Freling, Managing Principal at MedProperties Realty Advisors, and Caroline Chido, general sentiment among investors is that we're at the tail end of a bull market and there are expectations of a recession in the next two years. Due to the predicted recession, there has been a flight to healthcare assets among investors who are taking money from other asset classes such as general office, retail and multifamily. This has created a rising tide in the industry that will continue to put pressure on cap rates due to the amount of capital coming into the space.
While many think that medical office is recession proof, the more accurate term is that it is recession resistant. Healthcare providers are still affected by a recession and the industry is reliant on the providers' ability to make money. The fundamental attractiveness of the space is evident, but in order to be successful in this industry, it is important to have a deep understanding of healthcare and be able to underwrite tenants whose longevity is key.
Investors see a lot of opportunity in value-add, but the majority of new capital is going into core and core plus assets. Development spreads are at all-time lows and there is virtually no spread between new developments and existing buildings despite the development risk.
If you're interested in learning more about this conference, visit https://www.event.globest.com/healthcare/.
Contributors: John Pollock, Mike Conn, R.J. Sommerdyke and Sheila Schmidt