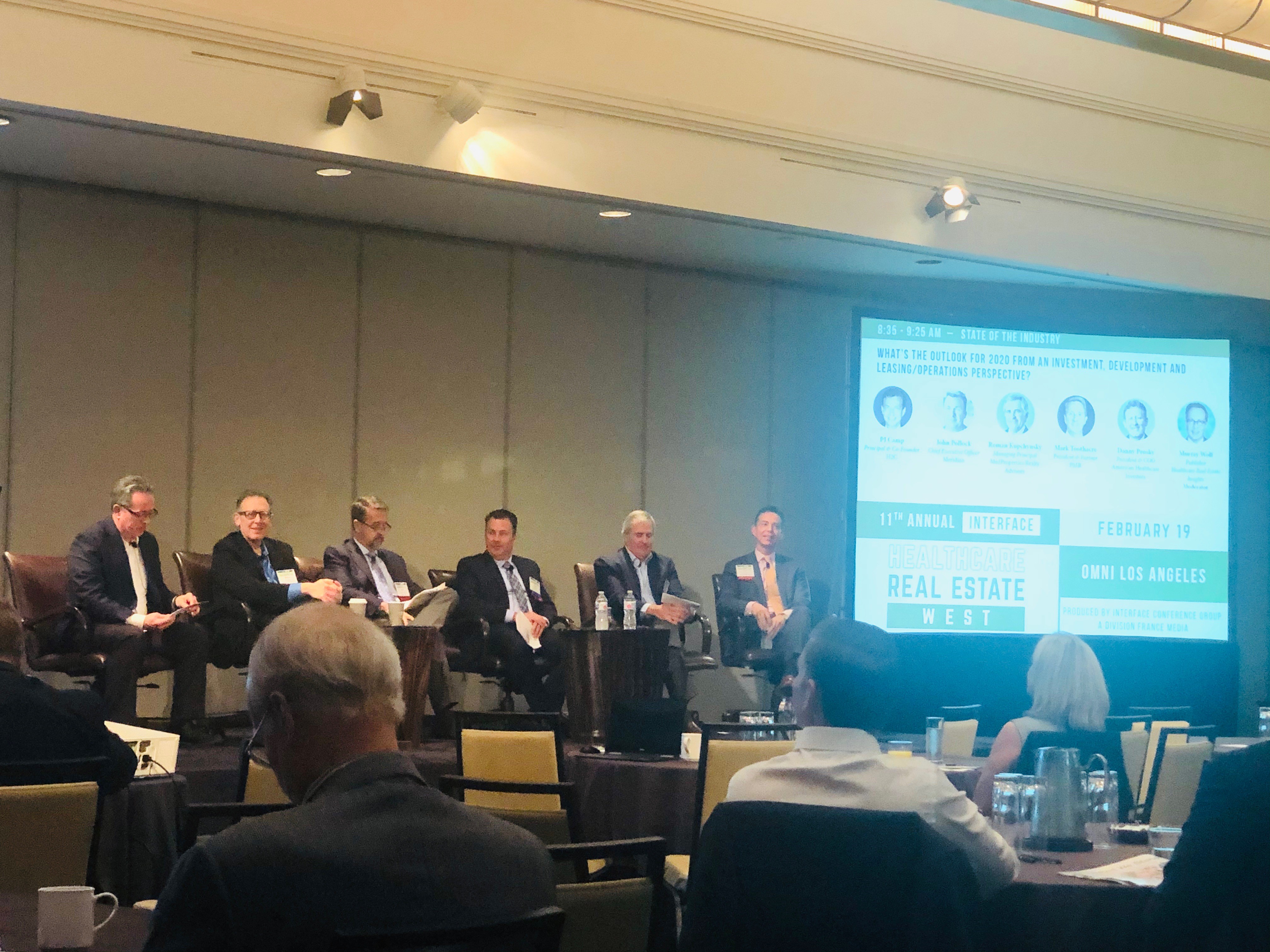 Once again, this year's conference was held at the Omni Hotel in Los Angeles and brought together a wide variety of stakeholders in healthcare real estate including hospitals and healthcare systems, owners/investors/developers, lenders, brokers and more. As our California portfolio continues to grow, this year we sent five team members to the conference to represent Meridian and absorb all the conference has to offer. Additionally, both Meridian CEO, John Pollock, and EVP, Mike Conn had the opportunity to participate in two different panel discussions. In this post, we share some of the key items we took away from the dynamic sessions.
State of the Industry: What's the Outlook for 2020 from an Investment, Development and Leasing/Operations Perspective?
According to Revista, Providers still own 76% of medical office buildings across the country. Panelists expect this trend to remain relatively consistent due to benefits created by the health system's ability to save on RE taxes and their lower cost of capital. With that said, systems are being more strategic with the assets they own and are beginning to shed non-core assets. The overarching trend is that systems want flexibility and developers that are willing to give that flexibility will have the most success.
The panelists see the most opportunity in secondary and tertiary markets due to the cap rate compression in primary markets. Investors are getting comfortable in these markets but are typically requiring strong credit profiles from anchor tenants who are dominant in that respective market. They still view these markets as opportunities but have noticed cap rate differentials from primary to secondary markets have tightened over the past 12 months.
Construction starts were up in 2019 (27.4 million vs. 24.2 million in 2018). Most of this development is driven by larger health systems. Core and shell costs continue to increase 5-7% year over year, putting additional pressure on rents. Panelists don't expect this trend to change anytime soon.
The Consumer-Facing Delivery Model is Here to Stay – What Comes Next?
Mike Conn and other panelists talked about improving the patient experience through access and technology. More procedures are being pushed into the outpatient environment where care is more affordable to deliver. Virtual care, new apps for monitoring you and your loved one's healthcare, and wearables were all discussed. Currently, the healthcare providers and insurance companies are adjusting to the concept of wellness and population health and creating a system for patients to use this technology and providers to get reimbursed for it. Millennials are still demanding access and price transparency, in addition to technology. All these things make it a prime environment for disruptors to come into the space.
Other Interesting Notes
Development is up almost 25% from 2018-2019 (trends are typically at 10-15%), which is primarily attributed to how healthcare systems are delivering care to their users. There is an initiative to develop more MOB's that can be widely distributed to all demographics versus large hospitals that require patients to travel. We are also seeing more hospitals that are incorporating hotels and senior housing on campus, allowing for more services to be provided with convenience.
In addition to development on the rise, we are also seeing rents increasing and it doesn't seem to be slowing down. Higher rents must be achieved in order to support the increased cost of capital and the good news is that users are paying the increased rents and still expanding into new markets. With that said, developers are still not building spec and typically requiring 50-60% pre-leasing prior to acquiring assets/land.
What's in store moving forward in 2020?  The topic of it being an election year was discussed and panelists are optimistic that it will not cause a disruption in development. Deals might slow down due to decision making; however, these minor ripples are not forecasted to have major financials impacts in 2020.
Main takeaway:  2020 it is looking like it will be another successful year and there is no indication of slowing down!
If you're interested in learning more about this conference, visit http://interfaceconferencegroup.com/.
Authors: Mike Conn, R.J. Sommerdyke, Heidi Duffy and John Moutsanas