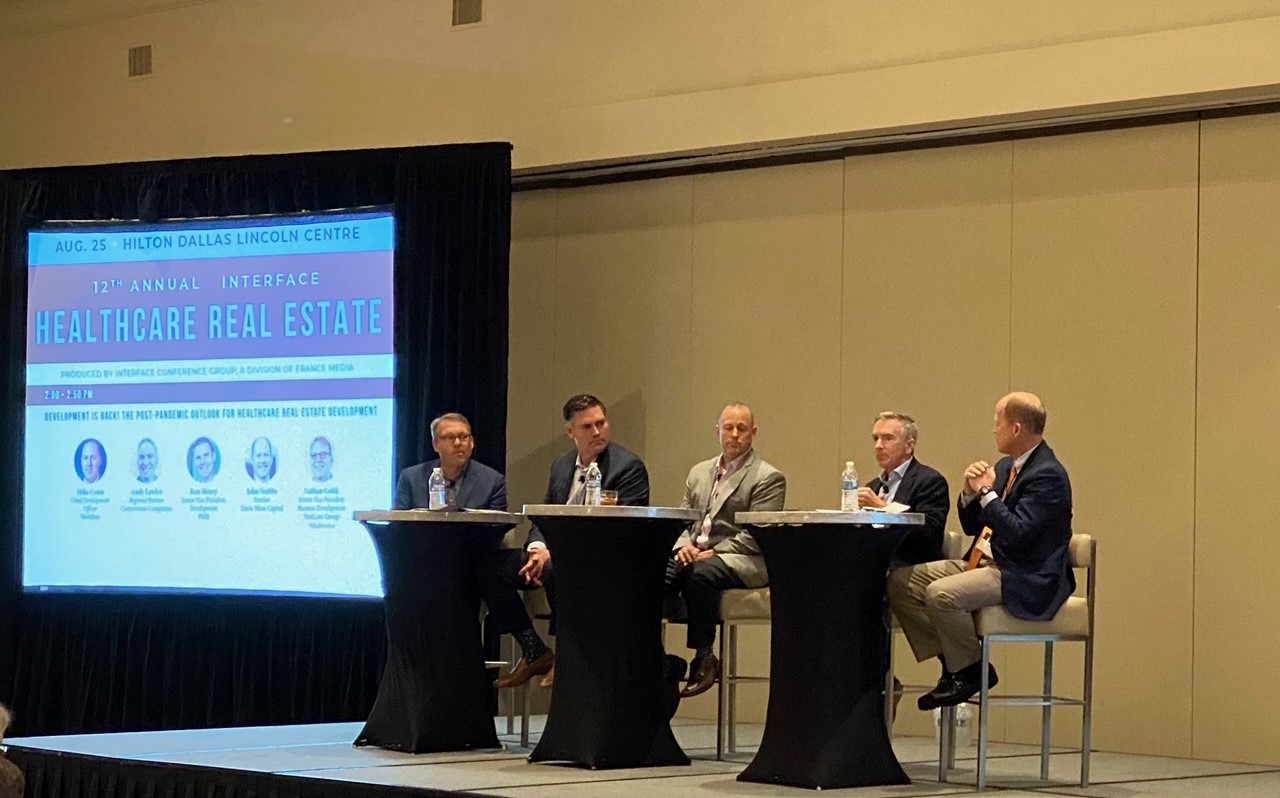 We were thrilled to have the opportunity to gather in person for this year's conference. The event was held at Lincoln Centre in Dallas, and as always brought together a wide variety of stakeholders in healthcare real estate including hospitals and healthcare systems, owners/investors/developers, lenders, equity, brokers and more. Meridian CEO, John Pollock, and Chief Development Officer, Mike Conn had the opportunity to participate in three different panel discussions and provide some of their key takeaways below.
State of the Industry: What's the Outlook for the Remainder of 2021 and into 2022?
In the opening panel the group talked about inflation, the pandemic and cap rates. Panelists included: Darryl Freling, MedProperties Realty Advisors; John Winer, Seavest Healthcare Properties; Michael Arvin, New Era Partners; Cad Henderson, Catalyst Healthcare Real Estate; and, Murray Wolf with HREI as the moderator
Inflation: The panelists pointed out that the debt markets have not priced in inflation into current rates, at least not in the next 12-18 months. The volatility in the material pricing and supply chain disruptions are putting short term pressure on costs. One of the panelists pointed out that the rapid rise in cost was setting the pace for deals – if occupiers don't make quick decisions, contractors won't and can't hold prices.
Pandemic: In many ways the pandemic served as a proof-of-concept exercise for hospitals and health systems outpatient and telehealth care. The systems were forced to push non-acute care services away from the hospital campus to create capacity at the hospital. Decanting services from the hospital campus is not a new strategy, but it is something that has gained momentum and is expected to accelerate with growth in urgent care, free standing emergency departments, ambulatory surgery centers, imaging and other specialties.
Cap Rates:  Revista's 2Q data reported record low cap rates. According to the panelists, it was the lowest since Revista began tracking in 2015. The group predicted that there is still room for compression. When alternative asset classes (multi-family and industrial) are trading well below 4% cap rates, medical office on a risk return basis is still attractive. The attractiveness of the industry is largely due to the increased capital flow coming into the space and the fact that demand for product is outstripping supply.
Other Interesting Notes
Value add MOB's are trading at core plus pricing. Sales volume is projected to be around $11B for 2021. Healthcare costs are still unsustainable, around 18% of GDP, with continued pressure to reduce the cost of care with outpatient ambulatory strategies. Providers are stockpiling cash, shoring up their balance sheets, and becoming more open to using 3rd party capital. There continues to be a shortage of doctors and nurses to meet demand. Mental Health and Behavioral Health are gaining traction in healthcare real estate and quickly being de-stigmatized. Around 60% of all ER visits now have a component of mental health diagnosed, but there is a shortage of facilities to bring these folks to for appropriate treatment. Lastly, insurance payors and providers are starting to see the benefit of investing in proactive treatment.
If you're interested in learning more about this conference, visit http://interfaceconferencegroup.com/.
Authors: John Pollock and Mike Conn