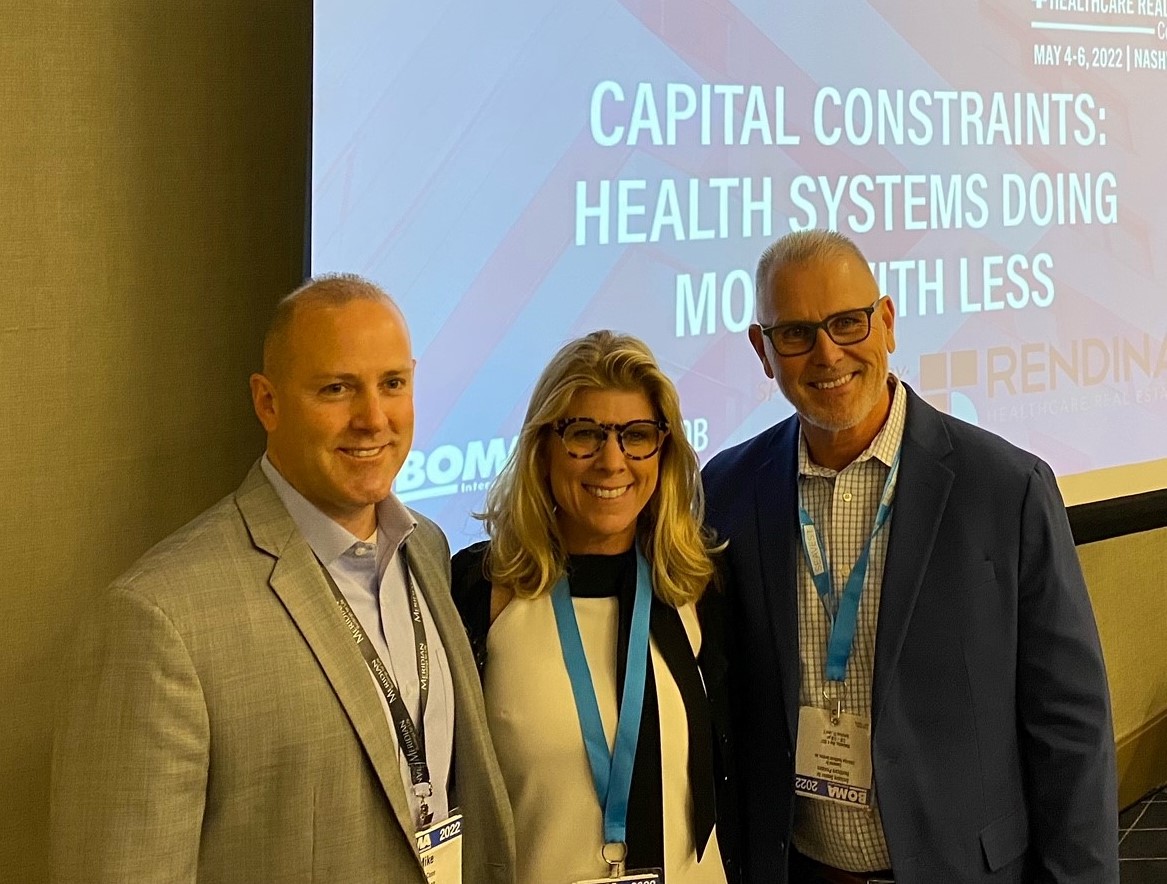 Five members of the Meridian team were fortunate enough to attend this year's BOMA International Medical Office Buildings and Healthcare Real Estate Conference. The team traveled to Nashville, TN to attend the exciting conference which consisted of SO many opportunities to learn and connect. Our Chief Development Officer, Mike Conn, participated on the panel titled "Capital Constraints: Health Systems Doing More with Less", and guess what…we break down the entire session in this post! Read on to find out what was discussed.
The Panel
CBRE's First Vice President, Angie Weber (Moderator)
CommonSpirit Health's Division Director, Real Estate Services, Jennifer Tanner
Tenet Health's Vice President, Perry Guinn
Meridian's Chief Development Officer, Mike Conn
Question #1 – Where is capital being allocated?
Tenet: At this time, Tenet's capital is being allocated to five hospital towers that are currently under construction, 24 Ambulatory Surgery Centers (ASC), several "micro" hospitals, and some deferred maintenance at their properties.
CommonSpirit: Most of their capital is being used toward bed towers.
Meridian: Our focus has been on ambulatory outpatient facilities. It feels like the floodgates have opened now that things are returning to normal. There has been an uptick in imaging, urgent care, ASCs and oncology.
Question #2 – How have supply chain and cost escalations impacted your projects?
Tenet: Perry is having to go back to the company's Board to request additional funds to complete previously approved projects. Perry also has concerns over the seismic requirements in California under Senate Bill 1953. The bill could cost the company more than $1 billion to retrofit their hospitals. The current deadline is 2030.
CommonSpirit: Jennifer indicated that they are focusing on Express Care Centers in order to get into desired markets as escalated costs are prohibitive on developing bigger outpatient MOBs right now.
Meridian: With costs escalating and schedules being compressed, Meridian has been utilizing reimbursement agreements as a means for Providers to show their commitment to the project and to get a jump start of long lead items. Right now, we are using 1% / month escalations and 10% contingencies. Mike discussed how it is critical to bring in the general contractor, architect, and key subs early so that there is plenty of time to create a design that stays within budget and uses specifications that are available in the marketplace. Meridian has seen + 40-week lead times on HVAC and elevators so we are having to release those items before drawings are complete.
Question #3 – How does your organization view ownership versus leasing?
Tenet: The preference at Tenet Health is to own key assets like acute care centers. They are open to 3rd party development. As an example, Tenet owns USPI (an ASC operator) and in that business unit they often partner with the local systems to gain alignment.
CommonSpirit: They also prefer to own but are doing more leasing of non-acute care assets. They too will partner, but it is more for expertise, like their partnerships with the UC Health system.
Question #4 – What about lease renewals?
CommonSpirit & Tenet: Lease renewal is no longer a given; all spaces are being heavily scrutinized. Both organizations are paying close attention to utilization and optimization – it's all about efficiency. In addition, both organizations are reluctant to take on real estate from acquired physician groups, especially physician owned real estate.
CBRE: There has been a marked change. It used to be about blocking the competitor and now it is all about strategy and utilization.
Question #5 – Will telehealth impact physical space?
Tenet: It hasn't been a huge focal point, but they have been putting in or repurposing smaller pods when necessary.
CommonSpirit: Physicians are using existing exam rooms for telehealth consults, so no major re-design has been required thus far.
This is a recap of just one of the many sessions we listened to last week. The industry is always changing, and this conference always provides such a wonderful opportunity to get up to speed on all the latest trends. We're already looking forward to next year – drop us a line if we'll see you there!
If you're interested in learning more about this conference, visit https://www.boma.org/.
Author: John Pollock