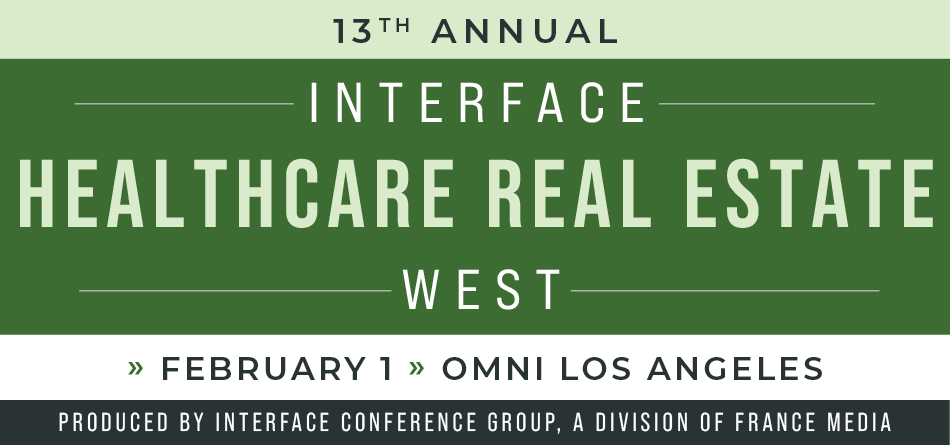 Earlier this month, team Meridian attended the 13th annual InterFace Healthcare Real Estate West conference, once again hosted at the beautiful Omni Los Angles in downtown LA. Meridian CEO, John Pollock, and Chief Development Officer, Mike Conn had the opportunity to participate as speakers, and Senior Vice President, Acquisitions, R.J. Sommerdyke was in attendance as well. John spoke on the State of the Industry Report & 2023 Outlook panel discussion, and we provide some of the key takeaways from the conversation below.
State of the Industry Report & 2023 Outlook
This panel provided an overview surrounding the industry's wins and losses in 2022, and discussed challenges and opportunities that we may see in the year ahead. In addition to Meridian's John Pollock, panelists included: Chris Bodnar, Prescriptive Capital; PJ Camp, H2C Securities, Inc.; Jake Rohe, PMB Real Estate Services; Chris Morgan, Big Sky Medical Real Estate; and, Sushil Puria, Cushman & Wakefield as the moderator.
2022 Year in Review
Revista recently published statistics for 2022 which showed sales volume strong with approximately $25B in transactions (including the HTA sale to HR) at an average cap rate of 5.9%. That being said, the volume in Q4 cooled significantly to $2.2B when compared to Q4 2021 of $7.3B.
Inflation and interest rates, including the Consumer Price Index ("CPI"), dominated headlines last year. The CPI hovered around 7% for most of 2022 and peaked mid-year at around 9%. In an effort to tamp down inflation and bolster the economy, the Federal Reserve raised interest rates at a clip not seen in decades (nearly 400 basis points in 2022). Soon, the Fed is expected to announce another rate hike of a quarter to fifty basis points.
2023 Potential Challenges
Investors cite rising interest rates, persistently high inflation, tighter monetary policy, limited credit availability, and a potential recession as some of their greatest challenges to overcome in 2023. Additionally, hospitals and health systems continue to face major headwinds with rising labor and operation costs, staffing issues, supply chain issues, lower margins and drawing down cash reserves. According to The Advisory Board, a recent C&W report showed that in 2022, health systems reported a 37% increase in median labor expenses per discharge as compared to pre-pandemic expenses in 2019.
To combat rising labor costs and inflationary pressures on expenses, healthcare providers continue to shift patient care to an outpatient setting (i.e., MOBs, ASCs, and retail clinics) located in closer proximity to its patient population.
Development yields are expanding, and most deals take over a year to put together. This is making it challenging for developers to hold onto previously agreed upon development yields. The cost pressure and increased yields are putting a lot of pressure on new deals. Furthermore, construction costs are not getting cheaper and even when there is an agreement with a GC, there are always unexpected items that come up. Lastly, supply disruptions are continuing to cause significant delays in project scheduling.
2023 Potential Opportunities
Revista recently reported that for the top 50 metros, the TTM occupancy is at a cyclical high at 92.1%. In addition, YOY rent growth is accelerating in the top 50 metros where the average rental rate has increased to $24.20 NNN.
According to the panelist's, leasing velocity is stable for their portfolios, and they are seeing more activity from smaller groups / physicians. The larger systems are faced with headwinds that seem to prevent them from making leasing decisions; however, existing tenants are accepting bigger bumps in their leases. As terms get longer, the amount of the bump gets increased pressure.
It is going to take several quarters for cap rates to stabilize, as many deals are being re-traded, repriced or taken off the market due to volatility in the capital markets. However, new investors continue to be attracted to our sector. The most prominent trend is the formation of joint venture ("JV") relationships between private equity groups and well-known healthcare real estate operators/developers.
While there are still numerous industry challenges carrying over from 2022 to 2023, a new year brings new opportunity and fresh perspectives. Meridian looks forward to continuing our mission to provide greater access to care at more affordable rates as we dive into the year ahead.
If you're interested in learning more about this conference, visit http://interfaceconferencegroup.com/.
Author: John Pollock