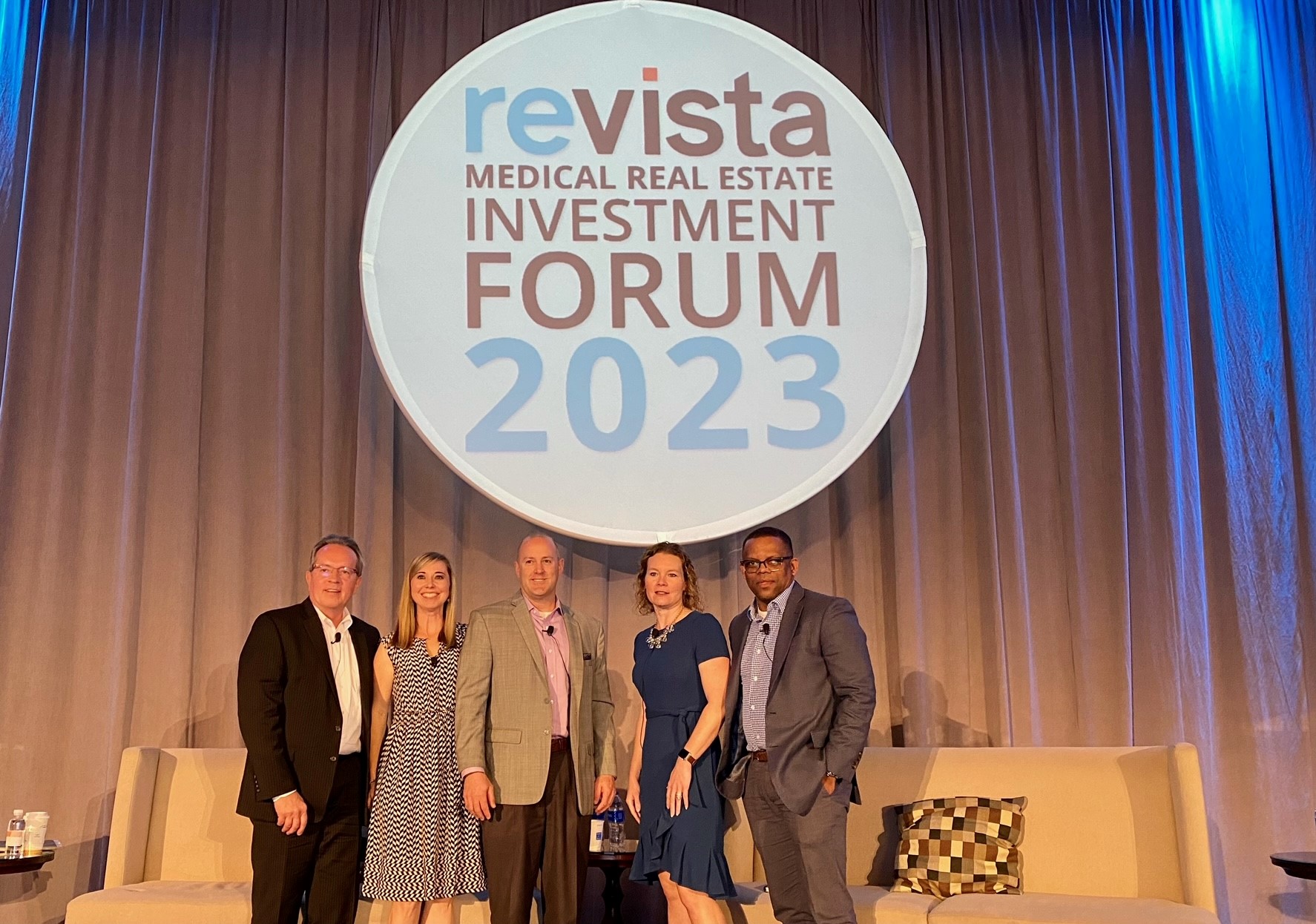 Last week, Meridian's Mike Conn and John Pollock attended Revista's 2023 Medical Real Estate Investment Forum in Bonita Springs, Florida. Mike Conn, Meridian's Chief Development Officer, spoke as a panelist on the Ambulatory Strategies in a Changing Market session. We provide some of the key takeaways from the discussion below.
Mike was joined by Murray Wolf with HREI, Kelly Noel with UPMC, Clayton Mitchell with TJU & Jefferson Health and Jaime Northam of Ryan Companies. The group discussed how health systems, developers, and owners are addressing lingering headwinds from the pandemic as they strive to support care delivery and affordability. Currently, hospital margins are in the worst shape since the pandemic due to labor shortage, inflation, and supply change issues. Some panelists worry that 2023 is going to be extremely tough – since the cares act funds dried up, reimbursements are lower from pandemic premiums. Others see opportunities in real estate, since it is often a big part of the healthcare balance sheet as they turn to developers. Developers can be a pressure release value by taking on risk, providing capital, and implementing ambulatory strategies.
When it comes to construction costs, the industry likes predictability. Developers can deal with a 10% increase, as long as they can count on results. Mike is using 6-8% increases and supply chain issues seem to be leveling out, but vendors are struggling to predict costs. Kelly noted that Real Estate Planners are being brought into the C-Suite discussions earlier in the process to leverage their skills in figuring out ways to more quickly implement strategies that can help operations or lower costs.
Building sites are also a hot topic. Clayton mentioned that most users are willing to consider drive times up to 20 minutes. TJU & Jefferson Health is trying to reduce their footprint by 75% over the next decade. Their plan is to replace small sites of care with larger centers that are more efficient and have a larger array of services. Kelly's group is also trying to reduce their footprint, which is difficult as they try to shift Physician's into less space and/or shared spaces. Mike mentioned the possibility of adaptive reuse projects that can often be quicker solutions and sometimes less expensive. Most brokers think every building can easily be converted to life science or medical and unfortunately, that is just not the case.
The medical real estate outlook for 2023 is a controversial topic with lots of factors to consider. Capital risk, strategy, construction costs and site selection are all important pieces to the puzzle as developers, systems and owners put together plans. The Revista Medical Real Estate Forum is always a wonderful opportunity to discuss future opportunities and challenges, and we look forward to continuing to be a part of the conversation.
If you're interested in learning more about this conference, visit About – 2023 Medical Real Estate Investment Forum (cventevents.com).
Author: John Pollock