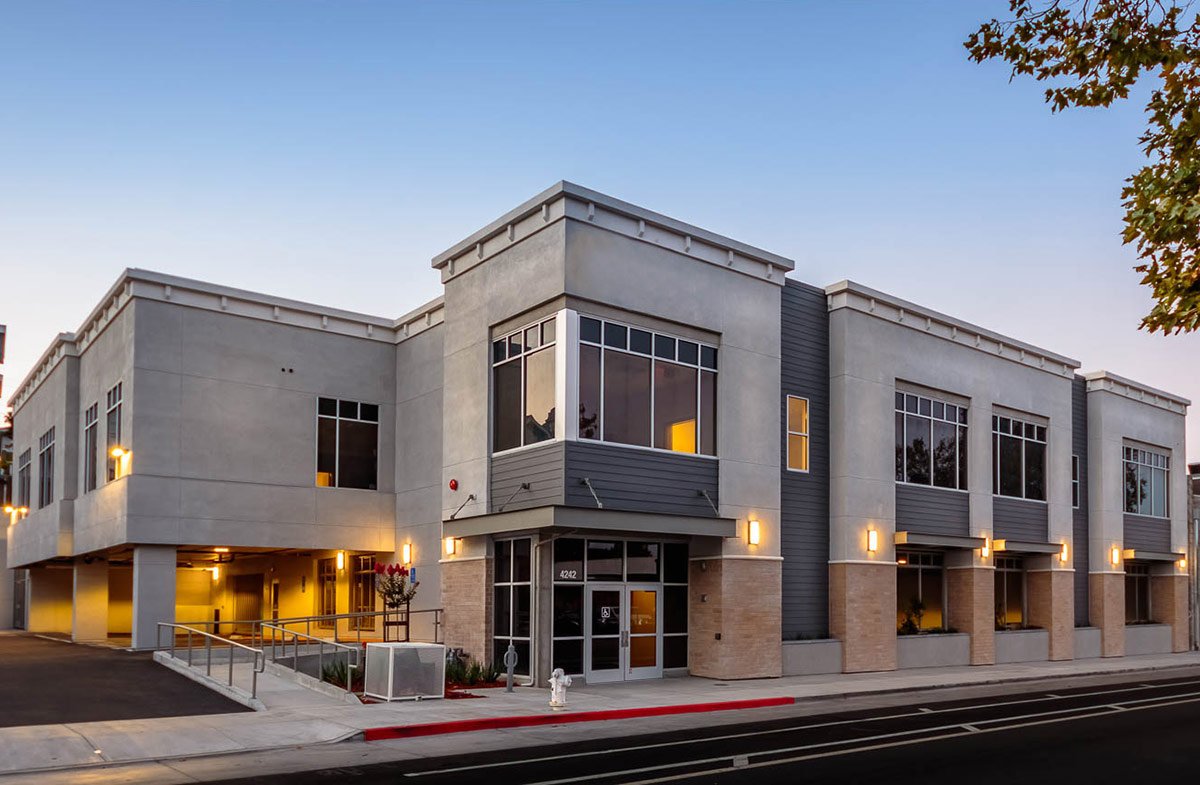 The Top 5 construction and design trends impacting healthcare real estate
This is an exciting time for healthcare real estate design and construction. Healthcare fundamentals are strong and continue to evolve with lots of new and continue to evolve with lots of new and private capital flowing into this sector. The hub-and-spoke model and the retailization of healthcare continue to push lower acuity services out into the communities for better and more affordable prices.
Interest rates and cap rates also appear to be stable, though yields continue to compress as construction costs increase and reimbursements remain flat or decreasing. All of this is forcing developers to get creative and embrace some of the newer design and construction trends currently impacting healthcare real estate.

1. Repurposing
The demand for prime outpatient locations is far exceeding supply as healthcare providers continue to move services off-campus in an effort to increase their reach and lower costs. Lack of developable land near hospitals and the desire to get more of a presence in the community are driving healthcare provider's ambulatory strategy. A great solution for this is finding underutilized buildings and repurposing them for healthcare.
Meridian has done this in multiple markets, including dense urban infill areas where there are limited development opportunities. The firm recently spotted an opportunity to convert an abandoned 1960s post office into an OSHPD3 ambulatory outpatient clinic in Walnut Creek, Calif. Meridian expanded the building, reconfigured the parking lot and moved the existing entrance from the front of the building to the rear.
Transforming the old building into medical use included upgrading the roof structure to support new HVAC and sprinklers, as well as adding new shear and seismic strapping to existing walls and columns. It also involved overcoming many major unforeseen structural conditions, such as missing grade beams and column connections. All of the utilities were undersized and had to be upgraded as well. Other adaptive reuse projects include converting retail and general office buildings into medical use. Healthcare providers see adaptive reuse projects as a cost-effective way to enter markets ahead of their competitors.
2. Urbanism
We are seeing a huge increase in the desire for an urban-centric lifestyle, ranging from Baby Boomers to Millennials. Consumers don't want to travel far from home to get to work, entertainment or to healthcare. Accessibility is just as important to Boomers as it is to the busy moms who need a pediatric appointment for their toddler in between daycare and school pickups. Millennials are demanding easy access via ridesharing or bikes and scooters.
Meridian completed an OSHPD 3 outpatient clinic on a major retail corridor in Oakland, Calif., last April. The clinic is situated between a Blue Coffee and a Firestone auto care shop. It is also surrounded by new multifamily developments and other major retailers. The scarcity of available land and buildings required Meridian to develop a 12,750-square-foot, podium-style clinic on an assemblage of parcels totaling only 18,000 square feet. The on-grade parking structure under the building was made to look like a retail storefront to help activate the street and remain pedestrian friendly.
3. Green Technology
Reducing a building's carbon foot-print is a critical topic, especially in California. As an example, we recently installed Suntuitive thermochromic glazing in two of Meridian's recent ground-up outpatient clinics in Modesto and Stockton, Calif. This glass is more expensive up-front than traditional glass, but it should produce a lower life-cycle energy cost as the glass naturally tints when heat and sunlight are applied to it. Plus, the patients' and employees' indoor light quality is drastically improved. Meridian is exploring other construction methods and techniques as part of its energy-saving initiatives. These include photovoltaic, modular, smart building management systems and sustainable materials.
4. Growing Construction Costs
Material costs have been steadily in- creasing over the past couple of years. The largest cost increases have occurred in manufactured steel, cementitious products and softwood lumber. It's important for developers to be cognizant of this when budgeting for new projects that are one to two years out from breaking ground. The industry needs to pay attention to the commodities markets, hedge bets on which materials are less volatile and design accordingly to mitigate possible budget issues. Meridian switched two wood and stucco medical buildings to Type II-B CMU (concrete masonry unit) buildings early in the design process at the Modesto and Stockton projects. This saved the client money as lumber prices spiked. The decision initially added cost to the project but it was less expensive at the end of the day.
5. Patient Satisfaction
Patients have many options when it comes to choosing the right health-care facility. Owners and operators of healthcare systems are focused on creating the best patient experience possible. We are all focused on making the experience seamless, straight forward and comfortable. Facility design has evolved to focus on promoting a truly healing environment. Trends like exam rooms with a view, planned outdoor spaces, increased signage, technology and waiting areas with amenities that resemble hotels rather than hospitals are just a few ways facilities are enhancing the patient experience.
Meridian had the opportunity to build out a lower level suite in an existing operating medical office space building in Pasadena, Calif., this past January. The space had no natural light and felt confined due to the lack of windows. Meridian worked with its design team and decided to spend the extra money to install faux skylights that created the illusion of natural light coming into the suite. It's amazing what a difference it made to the employees and patient experience.
Meridian believes the fundamentals of healthcare real estate are solid and the economy will remain stable in the near term, barring any unforeseen global incidents or political maneuvering that could disrupt the sector. A lot of the prime development sites have been built out over the last economic cycle, so there are no "easy" deals anymore. It will take ingenuity to create new medical office projects. Repurposing existing buildings, assembling multiple parcels and unlocking difficult sites will be the wave of the future. Meridian is thankful to be part of this innovation that is transforming the healthcare industry and remains committed to providing lower-cost access to care to its healthcare partners.
Source: https://editions.mydigitalpublication.com/publication/?i=586537&p=&pn=#{%22issue_id%22:586537,%22page%22:0}