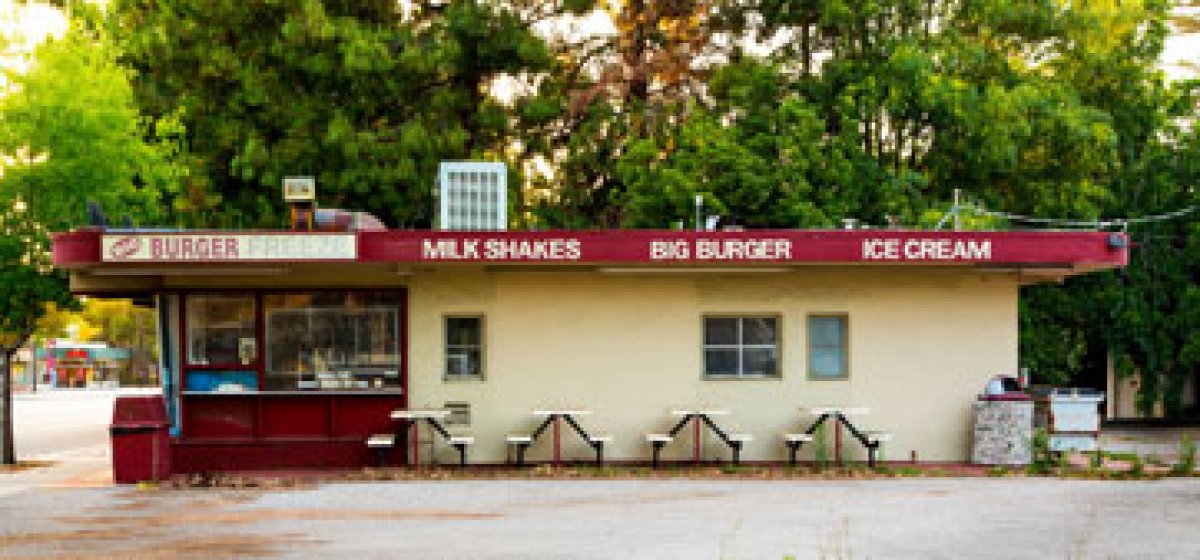 It's not without a bit of irony that the growing number of people with a disease caused by poor diet and sedentary living has finally spurred the redevelopment of a long-abandoned fast food eatery.
The tiny and long-vacant "Big Burger Freeze" on El Camino Real may be demolished soon to make way for a new dialysis center - where people with failing livers or kidneys have their blood cleaned and treated during regular visits lasting three to four hours.
Though it never comes up when old timers talk about beloved burger stands of the past - Johnny Macs, Linda's Burgers and Spivey's are much more fondly remembered - the Big Burger Freeze stands as a sort of time capsule.Its frosty machines, a bouquet of fake flowers and plastic menu board still exist as if the the door was locked one day and no one ever came back.
Sitting vacant for over a decade, it had become an icon for how difficult some shallow El Camino Real lots are to redevelop.Council member Mike Kasperzak noted the place while urging his colleagues to pass measures to encourage redevelopment on El Camino Real in February: "Do we want to do any favors to people" interested in redeveloping these sites "or do we always want the "(vacant) Tasty Freeze to be on El Camino - and the (vacant) car lot next door?"
Though not clearly marked, the sign on the front actually says "Big Burger Freeze" and a developer called Meridian now has the green light to tear down the tiny building at 412 El Camino Real.The dialysis center will also replace the vacant used car lot next door.
For a long time the parcels lay vacant as the city tried to assemble adjacent properties for larger redevelopment, an effort which apparently lost steam when Baron Park Plumbing Supply was allowed to move into one of the adjacent properties, having been forced out of San Antonio shopping center by its redevelopment.
New land use policies apparently had little to do with spurring the development."Like everything else, the economy is booming and people are trying to capitalize while money is available for investment," said Kasperzak, noting that he'd learned of the proposal shortly after his February comment.
"This is an interesting application because it's on El Camino Real and it's a really low intensity proposal for such a prominent location in the city," said zoning administrator Gerry Beaudin before he approved the project May 28, explaining that the "low intensity" nature of the proposal was because the "parcel size is really shallow.There isn't sufficient depth or area on this parcel to accommodate any new development without a shared parking arrangement."
The city may have lucked out in finding a dialysis center for the lot, as it is a rare use that requires little parking.Only one third of dialysis patients are able to drive themselves to their appointments because of disease or old age, while the rest are dropped off for their long visits, according to a city staff report.
The shared parking arrangement caused a bit of a tiff with the neighboring Mountain View Physical Therapy office, which was being forced by its landlord to share parking with the dialysis center, though city staff reported that parking arrangements would be "more than adequate."
"We've grown and grown to where we do have staff parking on side streets and El Camino Real," said Amy Fowlkes, clinical director of the Mountain View Physical Therapy.Patients such as those with hip replacements "who were already struggling to find parking places will have a more difficult time."
After removing one large "heritage" tree and saving a few others, the project makes room for 49 parking spaces in a new shared parking lot, instead of the 91 spaces that would be typically required.There are 14 spaces for the physical therapy center and 31 for the dialysis center, with four to spare, according to a city staff report.
Staff at the physical therapy building said they would need 27 parking spaces just for patients coming and going from visits with nine physical therapists, but city planner Eric Andersen said he examined Google satellite and street view images and "over the course of last three to four years there were a dozen available dates to view and the most that I saw in that parking lot was 18."