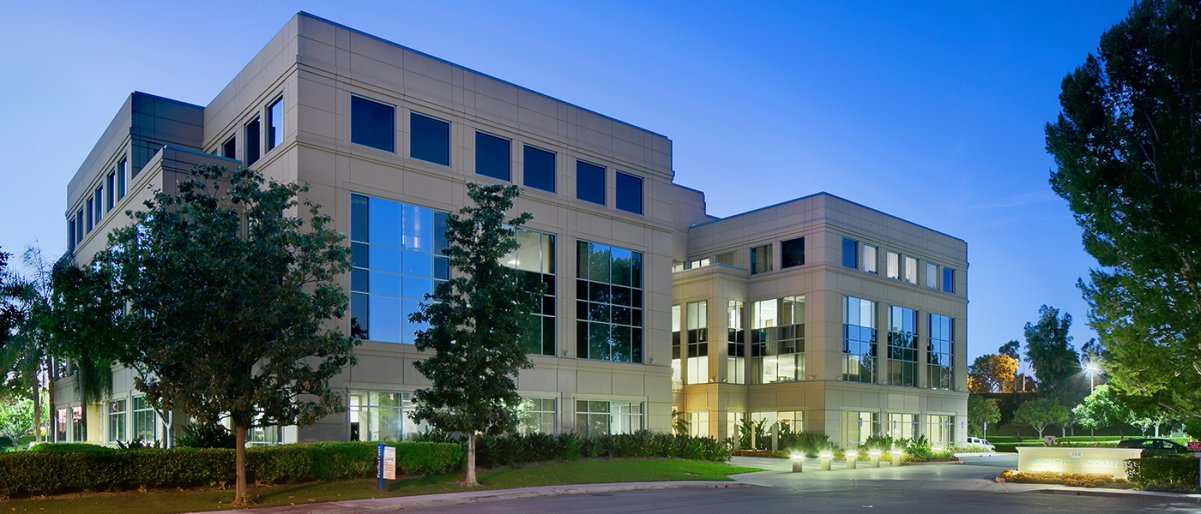 September 8, 2020
wolfmediausa.com
Meridian and Harrison Street Purchase 110,400-SF Building in Orange County for Medical Office Conversion
NEWPORT BEACH, Calif. – Meridian, a full-service real estate developer and owner of medical real estate, is pleased to announce that the firm has closed escrow on the purchase of a 110,400-square-foot, four-story Class-A office building in Irvine, California in a joint venture with Harrison Street, one of the leading investment management firms exclusively focused on alternative real assets. The joint venture plans to invest additional capital in building improvements to convert the building into a Class-A medical office building.
The property is located at 114 Pacifica Court on a 4.8-acre parcel that is bordered by the I-405, I-5 and I-133 freeways within the Irvine Spectrum. "We are very excited about the location of this building," said Meridian Vice President, Acquisitions, R.J. Sommerdyke. "The property is centrally located to major transportation hubs, with less than a five-minute drive to Metrolink's Irvine Station and roughly a 10-minute drive to John Wayne Airport (SNA)."
"Future tenants and their patients will have easy access to the numerous amenities at the adjacent Irvine Spectrum Center and will also be in close proximity to two of Orange County's most exciting developments, the Orange County Great Park and the recently announced $1 billion City of Hope Cancer Center," Sommerdyke noted.
"The building was being sold 60% occupied and was attractive to us for a variety of reasons," continued Sommerdyke. "In addition to being one of the fastest-growing cities in the state, Irvine has one of the tightest medical office markets in Southern California with extremely high barriers to entry and very strong demographics. The building has great freeway visibility with large, flexible floorplates that can accommodate a variety of uses, such as surgery centers, imaging clinics, etc. These large blocks of space are rarely available in Irvine and are in high demand from medical providers that are looking to grow or consolidate space, near their patients."
Constructed in 1999, the building is currently named Pacifica Court, but will be renamed to Pacifica Medical Plaza once construction is complete.
According to Sommerdyke, "Meridian spent nearly a year obtaining entitlements to convert the property to 100% medical office. We plan to construct a three-level parking structure on-site which will add approximately 165 additional parking stalls to the property, bringing the parking ratio up to 5.55 per 1,000 square feet from 4 per 1,000 square feet. The common areas and lobby will undergo significant renovations and building systems will be upgraded to accommodate medical office uses. Construction of the improvements is expected to be completed in the third quarter of 2021."
"This is another great example of our acquisition team's ability to think outside the box and uncover opportunities that other prospective buyers didn't see. This acquisition gives us a chance to leverage our core competencies of acquisition, entitlement, development and asset management expertise all in one project," said Meridian CEO, John Pollock. "The conversion of this building to medical office will allow providers to serve a broad range of patients in an environment that can provide the best care available. We're particularly excited about this project because it is a great representation of what Meridian strives to do every day, which is to provide greater access to care and enhance the patient experience."
Mark Burkemper, a Senior Managing Director at Harrison Street and Head of Transactions Group – North America, said, "The need for top-tier, modern healthcare facilities and medical office buildings has never been greater. Orange County is an attractive market backed by strong demographic trends and we are excited to partner with Meridian to continue our longstanding commitment to providing access to modern medical centers."
CBRE Executive Vice Presidents Anthony DeLorenzo, based in the firm's Newport Beach, California office, and Todd Tydlaska, based in the firm's Los Angeles office, represented the seller, an institutional owner, in the transaction. Meridian and Harrison Street were self-represented and this transaction marks the third joint venture between the two firms. Leasing of the medical office building will be handled by John Wadsworth, Senior Vice President, and Aaron Phillips, First Vice President at Colliers International in Irvine.
According to Sommerdyke, Meridian has approximately 500,000 square feet currently in development/redevelopment, plus another 500,000+ square feet in the development pipeline and will continue to pursue similar, well-located opportunities in tight submarkets across the Western United States.
About Meridian
Founded in 1999, San Ramon, California-based Meridian is a full-service real estate developer and investor specializing in high quality, brand-enhancing developments with distinctive expertise in healthcare real estate. Meridian's services are broad in scope, but meticulous in detail — from site evaluation and land acquisition to entitlement and planning to construction management. Meridian has offices in Phoenix, Seattle, Dallas and San Ramon and Newport Beach, California. For more information, see www.mpcca.com.
About Harrison Street
Harrison Street is one of the leading investment management firms exclusively focused on alternative real assets. Since inception in 2005, the firm has created a series of differentiated investment solutions focused on demographic-driven, needs-based assets. The firm has invested across senior housing, student housing, healthcare delivery, life sciences and storage real estate as well as social and utility infrastructure. Headquartered in Chicago with an office in London, the firm has more than 170-employees and approximately $27.3 billion in assets under management. Clients of the firm include a global institutional investor base domiciled in North America, Europe and Asia. Harrison Street has been awarded Best Places to Work by Pensions & Investments for the last six consecutive years and was named 2019 North American Alternatives Investor of the Year by PERE. For more information, please visit www.harrisonst.com.
Source: http://wolfmediausa.com/2020/09/08/news-release-meridian-and-harrison-street-purchase-110400-sf-building-in-orange-county-for-medical-office-conversion/