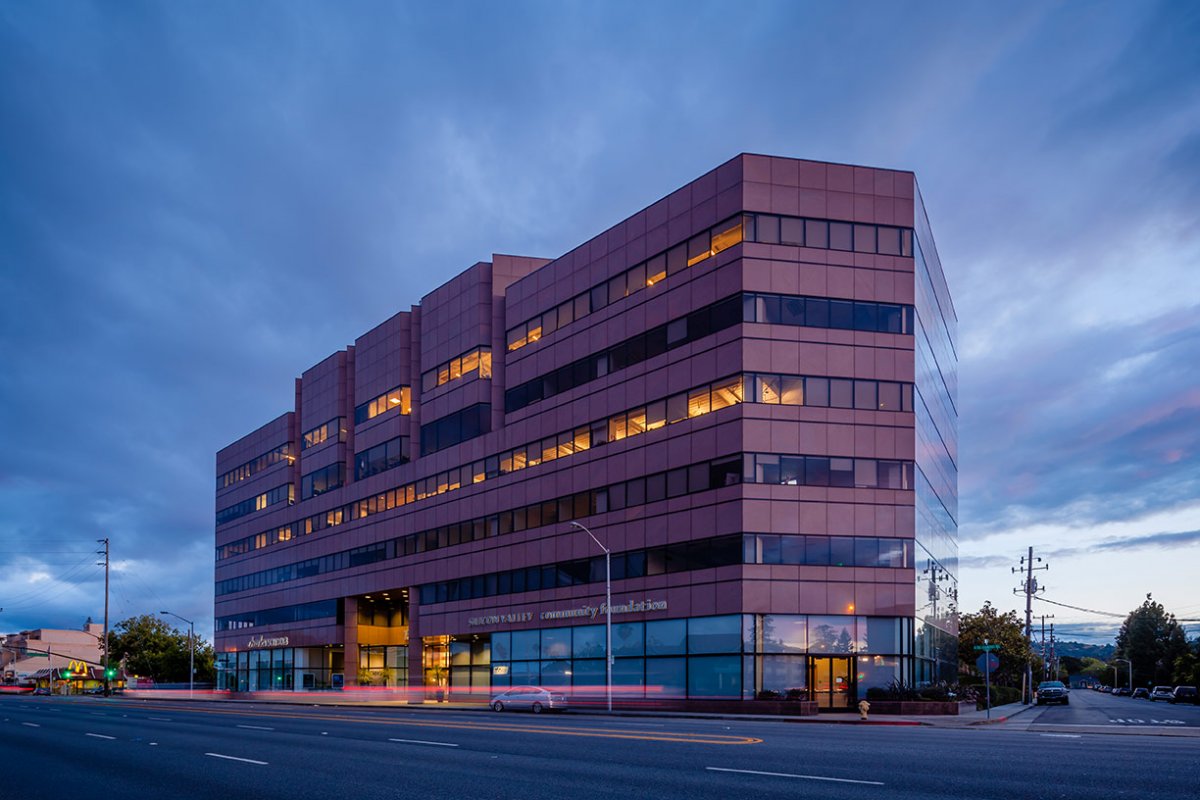 SAN RAMON, Calif. – Meridian, a full-service real estate developer and owner of commercial real estate, is pleased to announce that the firm has closed escrow on the purchase of a six-story, 100,000-square-foot office building located at 1300 South El Camino Real in San Mateo, California. The seller was DivcoWest and the purchase price was not disclosed. The 72%-leased building is located near downtown San Mateo. The purchase represents Meridian's largest general office deal to date and its first general office acquisition in the mid-peninsula submarket.
"We purchased this asset as part of our value-add office investment strategy," said Awais Mughal, Meridian Senior Vice President. "This is a high-quality asset that has been well maintained by a sophisticated and strategic owner. The building has flexible floorplates that can accommodate many different-sized tenants. Downtown San Mateo is becoming more attractive to tenants given the transportation options and amenities located nearby."
Mughal adds, "This purchase reinforces Meridian's commitment to strong submarkets in the Bay Area like the mid-peninsula submarket and we believe that this submarket will continue to perform strongly."
Constructed in 1987, the building sits less than one mile south of downtown San Mateo with easy access to the 101 and 92 freeways. Current major tenants include Charles Schwab, LendingTree and the Silicon Valley Community Foundation.
"We plan to renew existing rents and to lease-up the remaining available space," Mughal said. "We will proactively improve vacant spaces to create attractive, creative suites for prospective tenants. We also plan to upgrade common areas and restrooms and work with the city to provide exterior building signage for future tenants. We will also upgrade monument signage to enhance the building's identity."
"We will continue to look for high-quality, well-located office assets throughout the Bay Area and we intend to increase the volume of traditional office acquisitions when compared to our historical appetite," said John Moutsanas, Meridian Senior Vice President.
Tyler Meyerdirk, Senior Managing Director of Newmark Knight Frank in San Francisco represented both the buyer and the seller in the transaction.
This transaction comes on the heels of Meridian's purchase in Santa Ana, California last week where the firm purchased a 100%-vacant, 53,500-square-foot office building for $20.35 million with plans to convert it to medical use. According to Mughal, Meridian is actively looking for additional general office and healthcare real estate opportunities of all sizes throughout California, the Pacific Northwest and the Southwest.
About Meridian
Founded in 1999, San Ramon, California-based Meridian is a full-service real estate developer and investor specializing in high quality, brand-enhancing developments with distinctive expertise in healthcare real estate. Meridian's services are broad in scope, but meticulous in detail -- from site evaluation and land acquisition to entitlement and planning to construction and management. Meridian has offices in Phoenix, Seattle, Dallas and San Ramon and Newport Beach, California. For more information, see www.mpcca.com.
Media Contact
Company Name: Meridian
Contact Person: Anne Monaghan | Monaghan Communications
Phone: (925) 302-1400
Website: http://mpcca.com