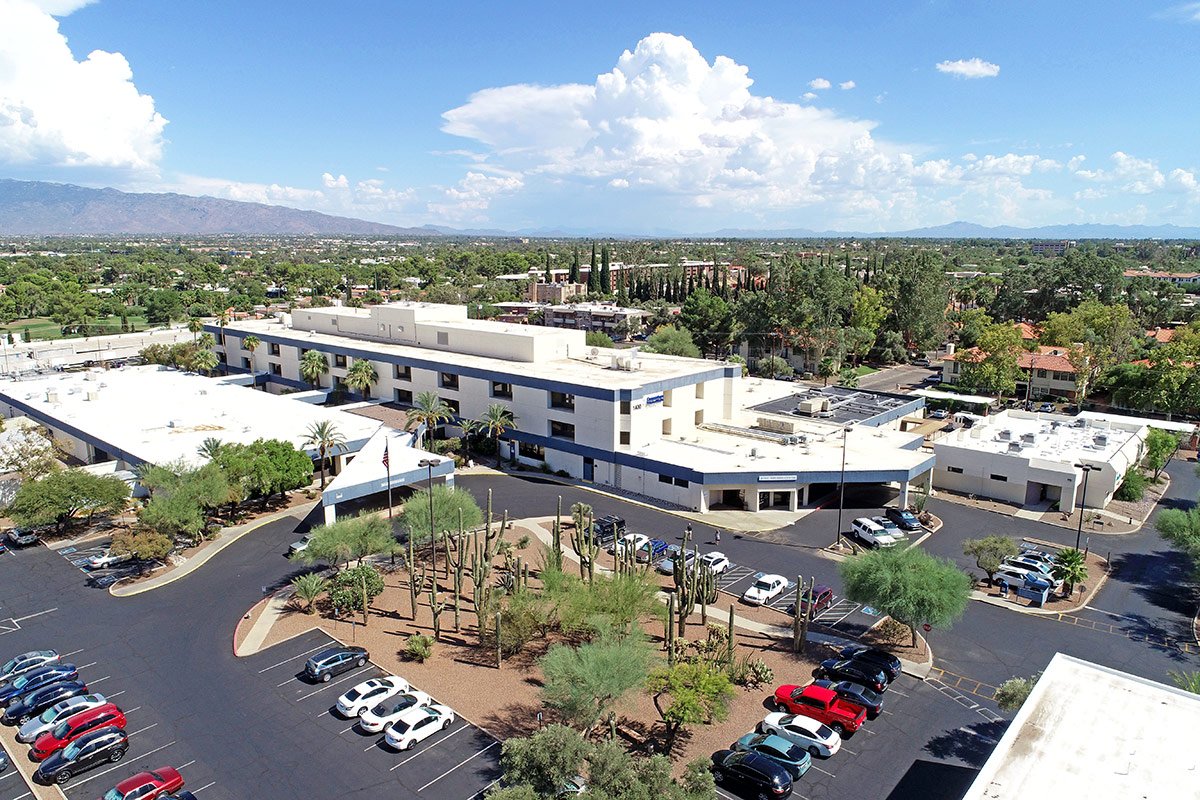 January 7, 2021
azbigmedia.com
Meridian buys 188,000-square-foot medical building in Tucson
Meridian, a full-service real estate developer and owner of medical real estate, announced that the firm has closed escrow on the purchase of El Dorado Medical Plaza, a 187,690-square-foot, three-story combined Class-B medical office building, surgery center and hospital in Tucson, Arizona. The property was purchased in partnership with a large institutional investor. Meridian plans to invest additional capital in building improvements and renovations.
The property is located at 1400 North Wilmot Road on an 11.55-acre parcel that is near Tucson Medical Center's main hospital campus and St. Joseph's Hospital, as well as other healthcare facilities. "This facility is unique in that it includes both a medical office building and a surgery center, plus it has inpatient hospital floors," said Meridian Vice President of Real Estate Development, Sheila Schmidt-Turkington. "The property is currently 82% leased to three tenants, Tucson Medical Center (TMC), Southern Arizona's regional non-profit hospital, a 36-bed inpatient behavioral health hospital, and a prominent surgery center."
"El Dorado Medical Plaza was attractive to us for a variety of reasons," continues Schmidt-Turkington. "In addition to being in a location that we were eager to gain a footprint in, existing relationships with Tucson Medical Center and the behavioral health provider made the property very appealing. Also, the building was at a 'fork in the road,' as major systems had to be refurbished or replaced, and the anchor tenant was deciding whether to stay or go. It was a classic value-add opportunity."
According to Schmidt-Turkington, "This project gives Meridian the opportunity to do what Meridian does best, solve real estate challenges for our healthcare clients. Tucson Medical Center was well established in the building and did not want to move but was not willing to stay under the existing conditions. Meridian will have touched every major building system when this renovation is complete – giving our tenants a highly functioning building, so they can focus on what they do best – providing excellent patient care to the Tucson community."
Schmidt-Turkington adds, "Currently, there is a large, mostly unused surface parking lot and structure on the east side of the building. There are multiple points of entry into the building, but only one 'main entry' to the hospital building on the north side. We plan to activate one of the eastern entryways by remodeling it and allowing the tenant to add additional signage near the renovated entry. Meridian plans to do significant renovations inclusive of separating the tenancy in the building by way of dedicated entryways and updating internal corridors to 'guide' the patients more easily to the desired floor. The behavioral health provider will have clearly marked ingress and egress to the building leading to the third-floor suites and to no other areas in the building. Tucson Medical Center will access through clearly marked entryways and those patients will not have access to the other tenant's suites. This will allow for greater patient privacy and prevents parking congestion on what is now a single 'main entry' side of the hospital building."
Building renovations are expected to begin immediately and are scheduled to be completed by the end of 2021.
"The El Dorado health campus is an aged campus and is at a point and time when it requires significant capital investment to improve and modernize its infrastructure and aesthetics," said Richard Prevallet, Vice President of Facilities and Construction, TMC HealthCare. "Meridian is a company with the experience and expertise that can make those much-needed improvements. The planned renovations to this campus will make a significant difference for our staff and patients and we are thrilled to work side by side with Meridian."
"This will be the second building Meridian has acquired and renovated in Arizona, the historic Grunow Memorial Medical Center in Phoenix was the first," said Meridian CEO, John Pollock. "Meridian looks forward to continuing to serve Arizona healthcare providers. Our team is honored and privileged to play a role in increasing access and lowering the cost of care."
Marcus & Millichap's Ben Tashakorian, Senior Managing Director of Investments, David Benjamin, Senior Associate, Trent Carvolth, Associate and Bradley Peters, Senior Financial Analyst, all based in the firm's San Diego, California office, and Kelly O'Dea, based in the firm's Phoenix office, represented the seller, Clarion Properties based in Houston, Texas, in the transaction. Meridian was self-represented.
According to Turkington-Schmidt, Meridian has approximately 750,000 square feet currently in development/redevelopment and will continue to pursue well-located healthcare opportunities across the western United States.
Source: https://azbigmedia.com/real-estate/big-deals/meridian-buys-188000-square-foot-medical-building-in-tucson/