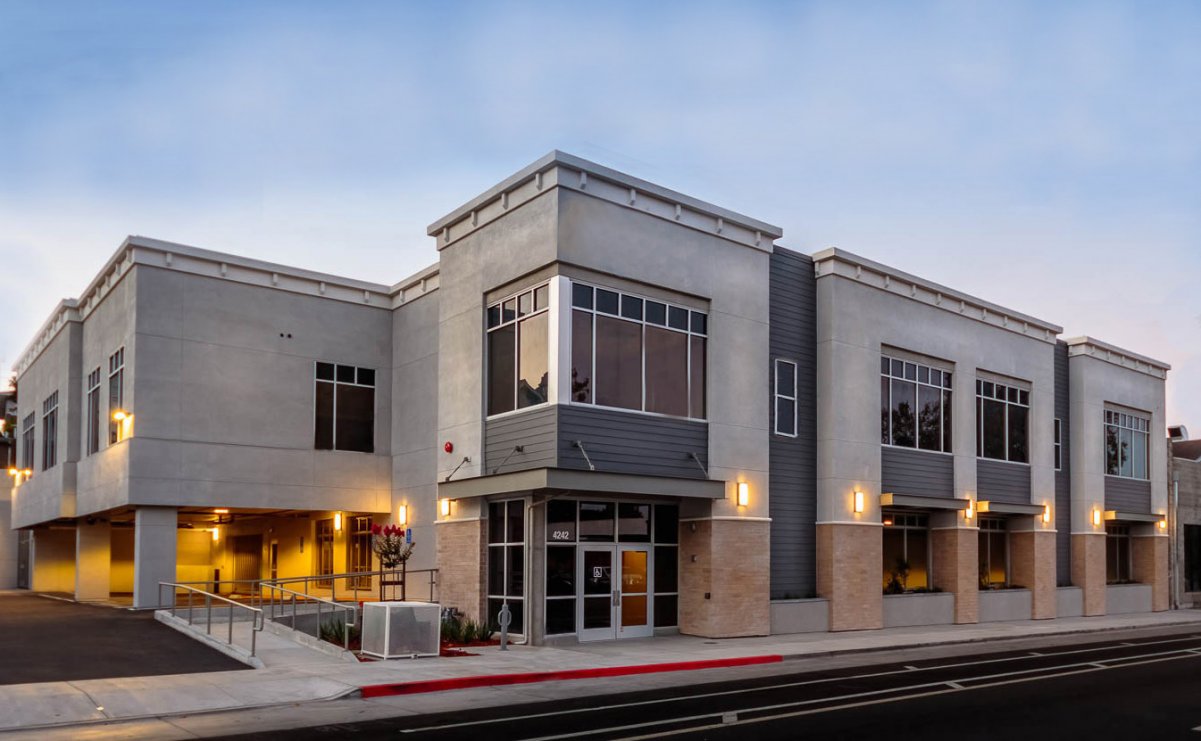 SAN RAMON, CALIF. – Meridian, a full-service real estate developer and owner of medical real estate, is pleased to announce that it has closed escrow on the sale of its 12,754-square-foot dialysis clinic in Oakland, California. The purchase price was $15.7 million, representing a price of $1,230±per-square-foot or a cap rate of 5.1 percent. This is Meridian's fifth transaction in 2018, having acquired four new buildings earlier this year and selling its 104,000-square-foot multi-tenant office building in Brisbane, California in June. This building also recently won a national HREI award for best new outpatient facility under 25,000 SF.
The outpatient clinic is located at 4242 Broadway in Alameda County, in the North Oakland neighborhood in a busy corridor near Kaiser Permanente and Sutter Hospitals on Pill Hill. The site is also positioned within proximity to the MacArthur BART station, Interstate 580 freeway, Highway 24 and adjacent to a variety of retail services. In 2013, Meridian acquired four lots to create a 19,600-square-foot parcel for ground-up construction of the new, state-of-the-art outpatient healthcare clinic.
According to Meridian's CEO John Pollock, "Having a visible outpatient facility that also provides easy access and convenience for patients and staff has been a growing trend for healthcare systems and providers. Patients often have difficulty navigating the large and often confusing hospital campuses, entrances and large parking garages. It is all about the patient experience. Meridian has seen this trend over the past few years given the cost advantage and convenience factor of providing services in an outpatient setting as opposed to a higher acuity, higher cost hospital."
Senior Vice President Mike Conn adds, "Given that this requirement was in an extremely tight urban infill market, paired with the attractive, mature Oakland submarket in recent years, this was a difficult site sourcing exercise. Nonetheless, we were able to find a site, obtain the necessary entitlements, and work with the City of Oakland to get the project approved."
The site required Meridian to vacate and demolish three different buildings while maintaining the structural integrity of a large retaining wall built into the rear of the buildings. "Through a coordinated team effort with our client, vendors, and the City, we were able to surgically demolish those buildings, and then construct the post-tensioned deck, podium-style OSHPD 3 clinic in just under 10 months," Conn said. The project included some interesting features, including a 200-foot long gurney-sized ADA ramp at the rear of the building, bioswales located in the parking garage, and permeable pavers to meet C3 stormwater treatment requirements. The clinic was completed in September of 2017.
Since its inception in 1999, Meridian has developed over 20 dialysis clinics. "Kidney failure, also known as end-stage renal disease, is a fatal condition unless a kidney transplant is available, or a patient undergoes dialysis, in which a machine filters toxins and fluids from the blood outside the body. In-center dialysis patients are treated approximately four hours a day, three times a week for the rest of their lives. There is a tremendous need to bring these types of services to the communities where patients live, and we are committed to doing so for our client" said Conn.
Chris Sheldon of Cushman and Wakefield, based in the firm's San Francisco office, represented Meridian in the sale transaction. The buyer was a Fremont-based family office in a 1031 exchange who was looking to invest in an iconic location that gave them access to the healthcare market. The buyer was represented by Jeff Gates of The Kase Group. The project was designed by Harriman Kinyon Architects out of Walnut Creek, CA, civil engineering by Kier & Wright Civil Engineers out of Livermore, CA, and constructed by Stevens Hemingway of Napa, CA.
About Meridian
San Ramon, California-based Meridian is a full-service real estate developer of innovative and integrated commercial office space, primarily medical, since its inception in 1999. Meridian's services are broad in scope, but meticulous in detail -- from site evaluation and land acquisition to entitlement and planning to construction and management. Meridian is a division of Marcus & Millichap Company. For more information, see www.mpcca.com.
To see the published article, click here: http://wolfmediausa.com/2018/09/06/news-release-meridian-sells-dialysis-clinic-in-oakland-calif-for-15-7-million/