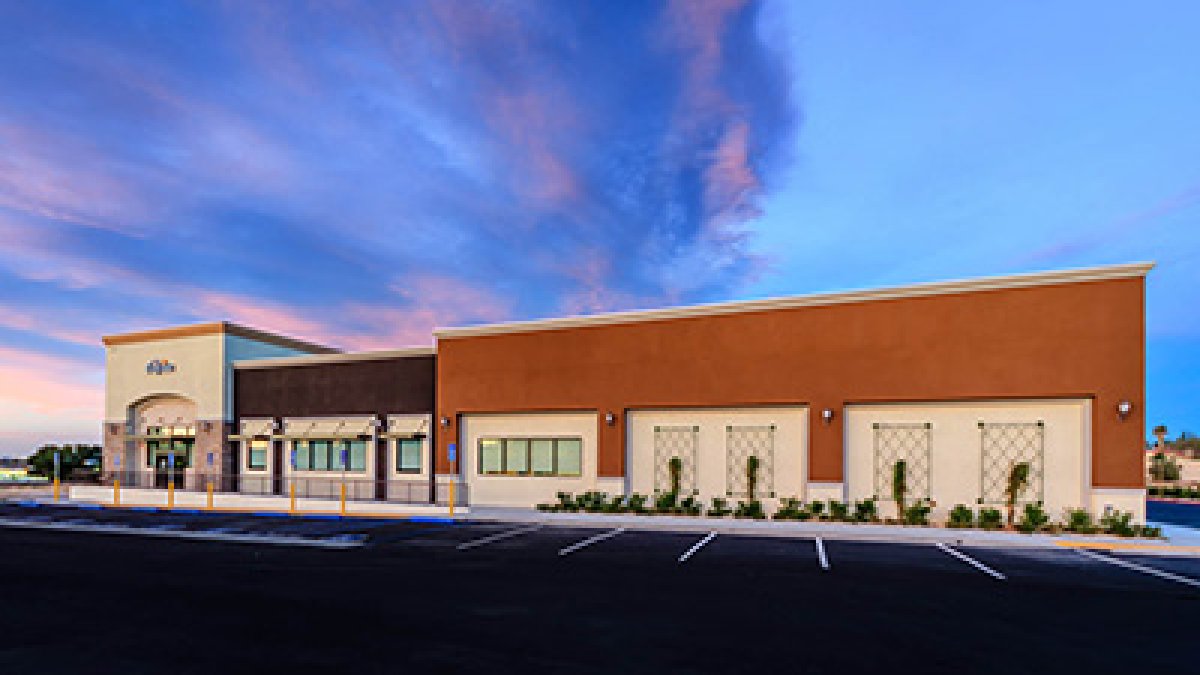 November 9, 2016
Monaghan Communications
Meridian Sells Dialysis Clinic in Palmdale, Calif. for $6.97 Million, 5.0% Cap Rate
SAN RAMON, CALIF. –Meridian, a full-service real estate developer and owner of medical real estate, is pleased to announce that it has closed escrow on the sale of its 13,750-square-foot dialysis clinic in Palmdale, Calif. The purchase price was $6.97 million, representing a cap rate of 5.0%. This is the second dialysis clinic that Meridian has sold this year. Earlier this year, Meridian sold a similar clinic in San Rafael, Calif.
The Palmdale clinic is located at 38454 5th Street West in Los Angeles County, near the new Palmdale Regional Medical Center. In 2010, Meridian acquired several buildings and excess land that were owned by the lender General Electric Credit Equities, Inc. The availability and low-land basis provided a unique opportunity to work with a dialysis provider to build a new state-of-the-art clinic in close proximity to the hospital with an affordable rent. 
According to Meridian's COO John Pollock, "Kidney failure, also known as end-stage renal disease (ESRD), is a fatal condition unless a kidney transplant is available or a patient undergoes dialysis, in which a machine filters toxins and fluids from the blood outside the body. In-center dialysis patients are treated approximately four hours a day, three times a week. There is a tremendous need to bring these types of services into the communities where patients live." 
This location, like many other that Meridian has developed, was located near patient need, says Pollock. "Having a visible outpatient facility provides easy access and convenience for patients and staff as they don't have to navigate large and often confusing hospital entrances and parking garages," Pollock explains. "It is all about the patient experience. Meridian expects this trend to continue in the coming years given the cost advantage and convenience factor of providing basic services in retail settings as opposed to higher acuity hospitals."
Meridian's Senior Vice President of Development, Mike Conn, was responsible for delivery of the clinic. "Through a coordinated team effort with our client, vendors and the city, we were able to construct a ground up OSHPD 3 clinic turn-key in less than seven months." Conn added that "Speed to market, branding, and market share are becoming extremely important as providers compete for patients and physician groups. We provide synergistic solutions to healthcare systems that are faster and more cost-effective for them."
Gary Stache and Bryan Lewitt of CBRE, based in the firm's Newport Beach and downtown Los Angeles office respectively, represented Meridian, the seller. The buyer, a private investor based in the Central Valley of Calif., was represented by Five Star Land Company, Inc. in Wilton, Calif.
This transaction comes on the heels of Meridian's sale of its 74,000-square-foot general office building located in Alameda County at 5776 Stoneridge Mall Road in Pleasanton, Calif. The purchase price was $15.5 million, representing a cap rate of 7.0%. The Pleasanton property was sold in September 2016.
About Meridian
A division of Marcus & Millichap Company, San Ramon, Calif. based Meridian Property Company is a full-service real estate developer having completed over one million square feet of innovative and integrated commercial office, primarily medical, since its inception in 2000. Meridian's services are broad in scope but meticulous in detail — from site evaluation and land acquisition to entitlement and planning to construction and management. For more information, see mpcca.com.