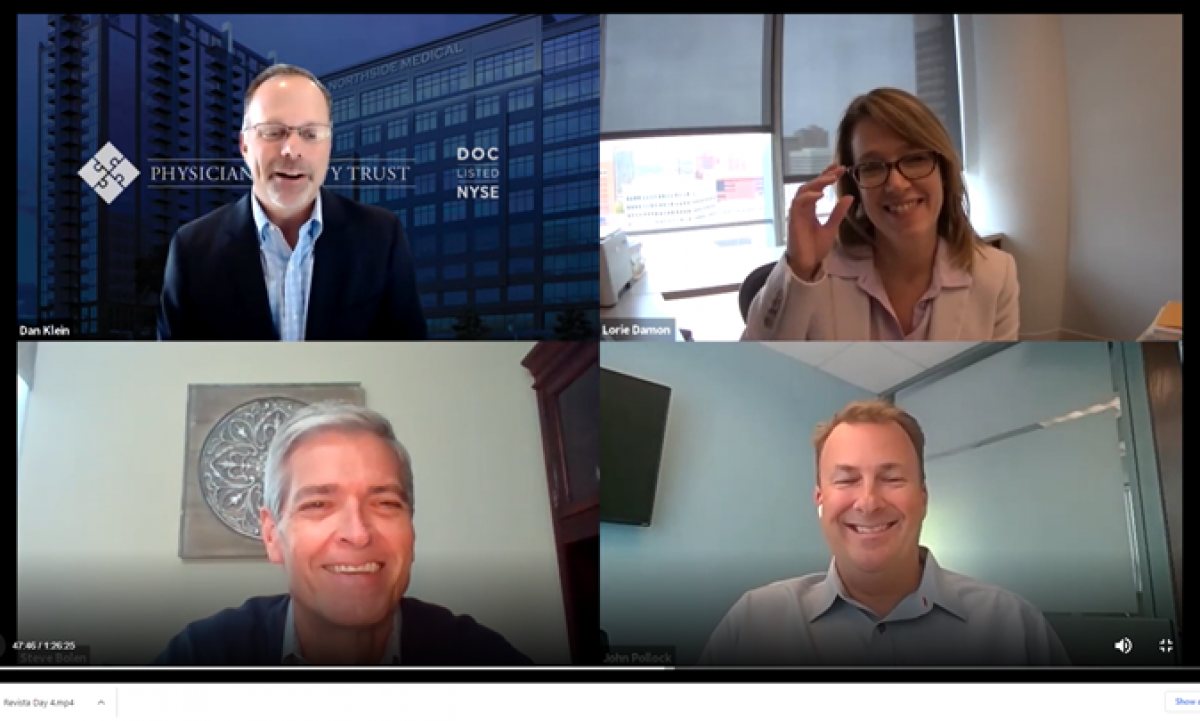 April 27, 2021
wolfmediausa.com
Pandemic Could Push MOB Sales Volumes Even Higher
Plenty has been written and said about the positive light that the COVID-19 pandemic has shed on medical office buildings (MOBs), including the fact that they have performed better and attracted interest from a wide range of investors that are new to the space.
And what has, and will, this new-found adoration for the product type mean for the sector?
Well, according to a group of panelists during an April 21 webcast sponsored by Arnold, Md.-based Revista, which compiles information concerning healthcare real estate (HRE) facilities for its subscribers, it could drive MOB sales activity to new volume levels.
"As a lot of large, diversified owners … look around at sectors that performed well, that's where they're allocating capital and they're selling out of weaker asset classes," said Steve Bolen, managing director with LaSalle Investment Management (LIM), an independent subsidiary of Jones Lang LaSalle Inc. (NYSE: JLL).
"They have a desire to move their capital into safer asset classes, and, as a result … that's going to drive a lot of sellers to think about selling, even those who were potentially on the sidelines."
As noted, Mr. Bolen made his comments during Revista's fourth virtual presentation – out of six that are planned – so far in 2020. As the second of two panel discussions on April 21, the session was titled, "Deal-Making & The Deal Environment As We Live With and Exit COVID."
The other panelists included: Moderator Dan Klein, senior VP and deputy chief investment officer with Milwaukee-based Physicians Realty Trust (NYSE: DOC); Lorie Damon, managing director of the Healthcare Advisory Practice with Chicago-based Cushman & Wakefield (NYSE: CWK); and John Pollock, CEO of Walnut Creek, Calif.-based Meridian, a commercial real estate firm that often remodels or repurposes outpatient medical facilities.
As Mr. Bolen continued with his thoughts about owners being more motivated to sell their assets, he added: "That, I think, is going to drive activity. You know, I was stunned to see the volume we saw in 2020 (topping $11 billion for the fourth straight year), but I think we could easily exceed that and by a decent margin in 2021 and beyond.
"I think the downstream effects of COVID-19 could mean a lot more activity, a lot more velocity, and certainly, the institutional capital is there to satisfy sellers that, you know, that are contemplating bringing assets to market."
With so much new, perhaps institutional capital chasing MOB acquisitions in 2021 and beyond, the panelists agreed that pricing could continue to rise, with capitalization (cap) rates, or first-year expected returns, continuing to compress.
"What comes to my mind is … that just the amount of capital we see in this space is concerning," noted Mr. Pollock of Meridian. "And the price points are concerning… I mean, we are the flavor du jour, I think, at the moment, and those that are not wanting to invest in some of those other sectors, be it hotel, retail, office, right now, seem to be pouring their money into our space, making all of us have to look at the opportunities in the market with a different lens."
Ms. Damon added that with so much of a focus on MOBs and so much new capital entering the space, "I'm not sure what that's going to look like on the backside if the sector does experience some distress, such as if physician acquisitions increase pretty rapidly and if health systems, you know, two years out from now realize they might be in recovery mode for five years, not two years. That's hard to underwrite if you're new to the space."
Yet, despite such concerns over pricing, the panelists noted that they are pleased to be involved in such a strong property sector, one that saw landlords continue to collect rents during the early days of the pandemic, when elective surgeries were put on hold, and that has seen occupancy rates hold steady and values actually increase.
"One of the great and happy surprises of last year was that the sector held up so well," Ms. Damon noted. "I think the reason why it commanded so much attention and why we saw such an influx of investors who had been looking at the sector and then finally moved in, is because, in large part, other sectors were suffering and this sector performed so well.
"We did not see material deterioration in the assets themselves," Ms. Damon continued. "We didn't see a lot of increases in vacancy. We just did not see the fundamentals shift in a way that would suggest the sector was going to underperform, even though, in March and early April (2020) … we were really legitimately nervous when there was, you know, the unprecedented action of having an eight-week, government-mandated shutdown of elective cases. And that is a significant revenue stream for most physicians who pay rents in our medical office buildings."
Mr. Klein noted that all of the attention being paid to MOBs as a strong investment "may have been born out of the (financial crisis) of 2008-09, when MOBs held up better than everybody else. People still remember that. And you know, this was a unique downturn that had a very sharp fall and then a recovery that was quite different from '08-'09. But the point remains the same, that this is, you know, a safe place to have your money for the long term. So, I don't disagree with you at all. I agree."
What has been most surprising?
When the panelists were asked what has surprised them the most about the MOB sector during the pandemic, Mr. Bolen reiterated his point about how strong the sales volume has held up.
"If we go back to March of last year … I'd say most of us expected transaction activity to slow dramatically for several months – even, perhaps, for the rest of the year," he said. "And, you know, that's exactly what happened in many other property sectors. I mean, look at conventional office sales, which were down 40 to 45 percent compared to the prior year; retail property sales were down at a similar level, roughly 35 to 40 percent. Even multifamily sales were down by 25 percent compared to the prior year. And, even the very much-favored industrial property sector saw a double-digit decline in sales volume compared to the prior year, as it was down roughly 10 to 15 percent."
Ms. Damon added that she "was also surprised by the same thing. I was also surprised by some of the price points that medical offices traded at last year."
Mr. Pollock added that while he too was surprised by the deal volume, he was also surprised, and pleased, by how many of the lenders involved in the sector started lending again.
"You know, some of our deals are a little bit higher on the risk spectrum," he said. "They require a pretty heavy lift, and so we saw lenders initially back off in that area. But as time went on, most of that has thawed and most of the lenders have come back into the space, but it wasn't easy initially, right?"
Other topics covered
As the discussion continued, the panelists covered a wide range of topics concerning the pandemic and how it has changed the way the professionals and firms involved go about their business, including:
• As far as the panelists were concerned, life, business and the healthcare system are all getting closer to being "back to normal." Ms. Damon noted: "I think we're close. We're certainly seeing procedure volumes tracking in line, or in some cases above, 2019 levels." Mr. Bolen added that while there have been setbacks since the pandemic's onset, "great progress has been made, as many of our tenants are reporting patient visits and volumes that are very close to pre-pandemic levels … and our health system clients are also indicating some loosening of the capital spend reins that were placed on them last year when everything sort of ground to a halt."
• As things do return to a more "normal" state, Mr. Pollock noted that with the "rollout of the vaccine, it seems like we are on a fast track to get back to normal. I think we probably have all seen, you know, conferences reappearing on our radar that will actually take place in person in the not-too-distant future." Mr. Klein added that, "regarding the conferences, John, that's a good point. I think we're going to be jamming months of conferences into the fourth quarter of this year. I hope Delta (Air Lines) is prepared."
• Like many virtual panels that have taken place during the pandemic, this group noted that while the use of telehealth has increased in the past year, it is not likely to have impact on the need for MOB space or for doctors needing to meet with their patients in person. However, the panelists added that they would like to see telemedicine remain a vital tool in the delivery of healthcare services. "The new utilization of telehealth has been incredible," Mr. Bolen said, "and that's one thing I hope doesn't change or go backwards in the future. I think it's just great for the industry as we work to try to bring, quite frankly, the cost of care down and increase access to everyone." Mr. Pollock echoed those thoughts, noting that Meridian is "passionate" about increasing access to care for everyone, with many of its projects, including redevelopment projects, reflecting that notion.
• When asked for some of the most positive outcomes to emerge in healthcare as a result of the pandemic, Ms. Damon said she's been pleased to see that many of the "larger regional systems have really started acting like a system" and have "centralized a lot of their decision-making." "By that, I mean, well, in the early days of COVID, when they had to figure out what to do with all of their patients and were aggregating information, they started to adopt this mentality that every bed is a system bed… Historically, even when large systems would come together by aggregation, they still acted like, sometimes, a consortium of hospitals, right? Not really a centralized decision-making arm." The pandemic has forced the systems to centralize data so "they can expedite their reaction and be more efficient in making decisions. We even saw, you know, cross-competitor collaborations which was very effective, and allowed them to adapt to the extraordinary requirements they all faced."
• In further discussing the positive changes to come out of the pandemic, Mr. Bolen added that most MOB landlords have put myriad new patient safety measures into place, many of which should last well into the future. "Many buildings have become safer in recent years, but I also suspect that many landlords and other market participants were, you know, probably in that slow-moving far right lane of the building safety highway. But now, thanks to the pandemic, many of us have had to change lanes quickly. And I think that's a great thing. It's important to our tenants, it's important to our building visitors, to our vendors and to our property teams that are on site. This should be important to us for a very long time and, you know, perhaps it will be change that lasts forever."
• In looking to the future, the panelists said that they've had to adapt how they've gone about their business, as being involved in the MOB sector always has, and always will be, "a high-touch" business in which prospective brokers, investors, tenants and others will want to see facilities in person. "There's a difference between effective and efficient, right? Efficient's good … but there's a difference, and I don't think seeing facilities virtually is something we can do forever." Mr. Pollock added that, perhaps, using technology and "doing things virtually and maybe using, you know, Google Earth on the front end as a filter before sending our teams out into the fields is probably more efficient." He added that having virtual meetings among the company's team is probably more efficient as well. "I don't know if it's better, it's hard to make that real connection virtually. But I think we'll see some of that stick around, even though … I think everybody is quite anxious to get back and meet in person and go out and call on our customers, sitting down with them instead of having a virtual meeting."
Source: https://wolfmediausa.com/2021/04/27/feature-story-pandemic-experience-could-drive-mob-sales-volumes-even-higher/